Gopal Singh Nepali
Biography of Gopal Singh Nepali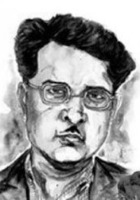 Gopal Singh Nepali was an eminent poet of Hindi literature and a famous lyricist of Bollywood. His association with Bollywood spanned around two decades, beginning in 1944 and ended with his death in 1963. He was a poet of post-Chhayavaad period, and he wrote several collections of Hindi poems including "Umang" (published in 1933). He was also a journalist and edited at least four Hindi magazines, namely, Ratlam Times, Chitrapat, Sudha, and Yogi. He was born in Bettiah in the state of Bihar. In fact, he was not a Nepali but has taken this as a part of his literary name.

During Sino-Indian War of 1962, he wrote many patriotic songs and poems which include Savan, Kalpana, Neelima, Naveen Kalpana Karo,etc.
This page is based on the copyrighted Wikipedia Gopal Singh Nepali; it is used under the Creative Commons Attribution-ShareAlike 3.0 Unported License. You may redistribute it, verbatim or modified, providing that you comply with the terms of the CC-BY-SA.