Gopalakrishna Adiga
Gopalakrishna Adiga
(18 February 1918 - 14 November 1992 / Mogeri, Kundapura taluk, Udupi, Karnataka / India)
Biography of Gopalakrishna Adiga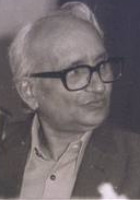 Mogeri Gopalakrishna Adiga (Kannada: ಮೊಗೇರಿ ಗೋಪಾಲ ಕೃಷ್ಣ ಅಡಿಗ) was one of the majors figures in modern Kannada poetry. He is known as the "pioneer of New style" poetry.

Early Life

Born in an orthodox, scholarly, Brahmin family in the coastal village of Mogeri, Udupi district, in Karnataka State. After primary education in Mogeri and Baindooru, he went to high school in Kundapur, 14 miles away from his village. His education would have ended after high school, but for the foresight of his aunt, who, against the will of other family members, gave moral and monetary support for his college studies. Thus, Adiga went to Mysore and earned his BA (Hons) in English from Maharaja College, University of Mysore.

After several minor jobs in Karnataka, Adiga worked at Sharada Vilas College in Mysore as lecturer in English from 1948 to 1952, during which time he completed a master's degree from Nagpur University. He also served at St. Philomena College in Mysore for ten years. In the mid 1960s, he became Principal at the newly created Lal Bahadur Shashtri College in Sagara, and later at Poorna Prajna College in Udupi.

As editor of Saakshi magazine he helped bring Kannada literature to the masses.
This page is based on the copyrighted Wikipedia Gopalakrishna Adiga; it is used under the Creative Commons Attribution-ShareAlike 3.0 Unported License. You may redistribute it, verbatim or modified, providing that you comply with the terms of the CC-BY-SA.
Prayer
Lord,
plying the well-known pumps of heraldic praise
your hirelings bend double; others, gouty wagtails,
lick the land for crumbs; one snuffs his candle out
and seeks like a eunuch leech
the warm marshes in the cracks of light;
another sissy gives his back to the time-fed rumps
and sheathes his dagger deep.
Lord,