Gopaldas Neeraj
Biography of Gopaldas Neeraj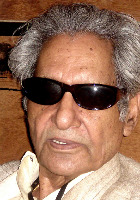 Gopaldas Saxena 'Neeraj' (popularly known as Niraj or Neeraj) is among the best-known poets and authors in Hindi literature. He is also a famous poet of Hindi Kavi Sammelan. He wrote under the pen name "Neeraj". His style is considered easy to understand, but has also been compared with high quality Hindi literature. He was awarded Padma Bhushan in 2007.

Poet Gopaldas Neeraj has played a vital role to the world of Hindi cinema with extraordinary lyrics. He has been honored with a Padma Shri from the Government of India, Yash Bharti by the government of Uttar Pradesh, Rajat Shree by the e Hindi Samaj Australia and also Filmfare Award for Best Lyricist.

Gopaldas Neeraj was born in the small village, Puravali of Etawah in Uttar Pradesh, India. He studied till high school at the Government College at Etah in Uttar Pradesh, and then studied until M.A. at the D.A.V. College in Kanpur. He wrote impressive verses under the pen name "Neeraj". His style is easy to understand, but has also been compared with high quality Hindi literature. Besides writing, he earned his living by teaching in a college. He was a wellknown Professor of Hindi Literature in Aligarh (U.P.). Majority of his poems and songs have been used in Hindi movies and are considered to be famous. He wrote songs for several Hindi Movies and attained an exceptional position as a songwriter who wrote in pure Hindi and did not support HindiUrdu mix, which is becoming more common day by day. He was highly influenced by the verses of Shri Harivansh Rai Bachchan. He came into limelight for the first time in 1941 when he recited his compositions at a kavi sammelan in Etah. He entered films in I960, when the late R. Chandra, producer and director, invited him to write songs for his picture Nai Umar Ki Nai Fasal. He also wrote the lyrics for films like Mera Naam Joker, Prem Pujari, Sharmilee, Pehchan, Chanda Aur Bijli, Tere Mere Sapne, Kanyadan, and Gambler.

Gopaldas Neeraj's Works:

1. PRAN GEET
2. DARA DIYA HAI
3. SANGHARSH
4. BADAR BARAS GAYO
5. AASAVARI
6. NEERAJ KI PATI
7. NEERAJ KI GEETIKAYEN
8. DO GEET
9. NADI KINARE
10. MUKTKI
11. GEET AGEET
12. NEERAJ KI RACHNAVALI
13. ANTARDWANI.
This page is based on the copyrighted Wikipedia Gopaldas Neeraj; it is used under the Creative Commons Attribution-ShareAlike 3.0 Unported License. You may redistribute it, verbatim or modified, providing that you comply with the terms of the CC-BY-SA.
I Meditate ...
I meditate- If ever there's a third world war
What'll happen to new morn's offspring ?
I meditate- If Earth sprouts out blood
What'll happen of the mirth of innocent ploughs ?
Happy-boughs, fragrant gardens
Nonchalant running of rivers and
Bubbling of brooks,
Cheerful children,fearless youth
Bashful moon faced maids !