Guy Shaked
Guy Shaked
(1969 / Beersheba)
Biography of Guy Shaked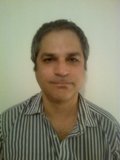 Guy Shaked has studied art and music at the Hebrew University in Jerusalem where he completed an M.A in the Humanities. He received an Italian government grant for his articles on various subjects such as Michelangelo's David, The Math of Traffic Congestion, Psychological Complexes, and Mozart's music. Shaked published three books, and his 60 online articles, which have been visited over 800,000 times, were cited by C. Wright of Yale and G. Abramson of Oxford as well as by other researchers.

Guy Shaked's haiku poems have appeared in 'Frogpond' (the most prominent haiku magazine outside of Japan) , 'Haiku News', '3LIGHTS', and 'World Haiku Review'. In addition, one of Shaked's haibuns was selected as the editor's choice of 'Contemporary Haibun Online'. His haiku in Hebrew has been published in the journals 'Moznaim', 'Hachotem' and 'Maariv-NRG'.

Recently, Shaked's music, has been performed in New-York (A piece for Cello solo) .
Ii Summer In Rome
My dog shuns the rain,
As I sit by marble bees,
Continents apart.

A local cabby,
Sweating like a true race horse,
By the Hippodrome.

A shivering clerk,