Halina Konopacka
Biography of Halina Konopacka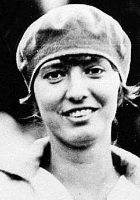 Halina Konopacka was a published Polish poet, and a famous athlete — the first Polish Olympic Champion (1928, Amsterdam). She took part in the Olympic Games in Amsterdam, where she won a gold medal in discus throw, breaking her own world record. This was the first women's gold-winning track and field event in the Olympics. While her pictures are relatively rare, a particularly beautiful shot of her from the IX Olympiad was published in the Tygodnik Illustrowany in August 1928.

She became a writer after retiring from athletics, and she lived in the United States after World War II.
As a poet Konopacka debuted with the collection Któregoś dnia ("Some Day"; 1929). She published also in the literary magazine of the Skamander group and in the Wiadomości Literackie, the premier literary periodical of the interbellum Poland, earning recognition and respect of such figures of Polish literature as Mieczysław Grydzewski, Kazimierz Wierzyński, and Antoni Słonimski. While lacking the innovativeness of a Maria Pawlikowska-Jasnorzewska, for example, Konopacka's poetry was nevertheless significant, according to Professor Anna Nasiłowska (b. 1958), for its feminist approach in analyzing the relationship between the man and the woman, and for its reminiscences of youth and its treatment of the theme of jealousy.