Harlan Simantel
Harlan Simantel
(August 8,1951 / Hillsboro, Oregon USA)
Biography of Harlan Simantel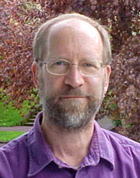 I'm an artist with a comprehensive web site (www.harart.com) that shows my paintings, drawings, and cartoons. It also includes a free, easy 16-lesson acrylic painting course.

I was first exposed to poetry in high school, attracted to Emily Dickinson's intelligence, spiritual independence, and creative passion. I admire other poets too, especially those whose humor shows thru (e.g. Ogden Nash, Dorothy Parker) . I've written an article, A lesson from the life of Emily Dickinson: http: //www.harart.com/hartext/emily.html

I occasionally wrote humorous poems on birthday cards and special occasions over the years. Starting in 2005 I began writing poetry fairly often as a creative outlet.

I also have a progressive Christian website, 'The Lord is Near.' (www.thelordisnear.net) I'm not a churchgoer, but I've written several articles with my own take on spiritual and topical issues. However, I've found poetry to be a more concise and creative way to express my thoughts and feelings on any idea that interests me.

I grew up in Oregon City, Oregon, the 9th of 10 kids in a German-American household. We were poor but took pride in our German work ethic. My parents both suffered at times from mental illness (due to poverty, stress, the responsibility of caring for a large family, genetics, and misapplied religion, I believe) and were hospitalized twice. Both my parents were intelligent (8th grade educations) , hard workers, and enjoyed music and humor.

I loved to draw from an early age, aimed to be an artist. By age fifteen I could accurately draw almost anything I saw. I also loved sports, especially basketball. In high school I was fortunate to learn oil painting from an excellent artist and teacher, Jack Barber.

I did well academically in school and loved literature and American history. I was a poor writer at first, struggling to organize my essays, with no computers in those days (50s,60s) .

I attended the School of the Art Institute of Chicago, two community colleges, and earned a degree in commercial art. For 20 years I was a sign maker and graphic artist. I retired at age 56, burned out on my college job.

I'm married to a free-lance graphic artist. We enjoy watching sports, ballroom dancing, hiking, local travel, reading current events, and long walks in our tree-lined neighborhood. I used to fly fish and we backpacked into wilderness areas, but my wife's knees protested so we gave that up.

My three current passions: painting, poetry, and continual learning (mostly via reading) .

One of my favorite quotes (after being in two cults in the 1970s) : 'When everyone thinks alike no one thinks very much.' -American journalist Walter Lippmann

HOW TO WRITE YOUR OWN POETRY

*Write a lot. Emily Dickinson wrote nearly 1800 poems in her 56 years of life. Some are much better than others in my opinion. The more you write the more gems will appear.

*Write what you know. What do you feel strongly about? Relationships? Nature? Your connection to God? Social issues? Superficiality? Humor?

*Be brief. Good poetry says something profound or memorable in as few words as possible.

*Edit ruthlessly. Read your poem over a few times when finished. Can you leave out some unnecessary words? Or rewrite a line better?

*Don't be concerned about rules. Your poems don't have to rhyme, but should have a nice rhythm and flow to them when read aloud.

*Share your poetry. Read them to a friend or family member. Post them on a website. A poem can be a very personal and special addition to an anniversary or birthday card.

*Read excellent poetry for inspiration and style. Three books I like: 'Good Poems' selected by Garrison Keillor; 'The Collected Poems of Emily Dickinson' (Barnes & Noble Classics) : 'The Complete Poems of Emily Dickinson, ' edited by Thomas H. Johnson. (Amazon.com is a great place to find used books at decent prices.) PoemHunter, of course, is a good one-stop site for reading classic and contemporary poets.

*Pray for inspiration - your own unique expression.

* Carry a notepad or scratchpad in jacket or purse when inspiration or idea surfaces while you're out and about.
Passion
passion
i think
Is the most attractive
brilliant
internal fashion

you can't wear it out
put it on
it colors all round about

you can't buy it
can't own it
it owns you
when you discover
what you love to do