Helen M. Merrill
Biography of Helen M. Merrill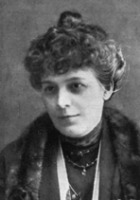 Helen M.Merrill is a daughter of the late Edwards Merrill, County Court Judge, at Picton, Ontario, and Caroline Wright. She was born at Napanee, Ontario, but was educated in the schools of Picton and at Ottawa Ladies College.

Miss Merrill is of French Huguenot extraction, her first American ancestor having landed on this continent in 1633. He was one of the founders of Newbury Port. The family coat-of-arms has the fleur-de-lis on the shield.

Since 1905 Miss Merrill has resided with her mother in Toronto, and for some years has been a member of the staff of the Ontario Bureau of Archives. In this position her work has been of recognized merit. Having made a special study of New Ontario, she has contributed several series of valuable articles, topographical and relating to colonizing conditions, etc., on our great northlands. And in collaboration with Dr. Wilfred Campbell, of Ottawa, she has for some time been gathering material for a historical and genealogical work on the United Empire Loyalists of Canada.

At the Sir Isaac Brock Centenary Commemoration at Queenston Heights, Ontario, she officiated as honorary secretary, and also went through the ceremony of adoption into the Oneida Band of the Six Nations Indians. She was presented with the tribal totem, and was given the Indian name, Ka-ya-tonhs –'a keeper of records.'

Miss Merrill is President of the Canadian Society for the Protection of Birds; Honorary General Secretary of the United Empire Loyalists' Association of Canada; and a Councillor of the Canadian Defence League. And as a great granddaughter of Dr. J. B. Chamberlain, who emigrated from the United States to Canada, before 1791, she has been elected a member of The Chamberlain Association of America and of The Society of Colonial Families, Boston, Massachusetts.

Since the Great War began, Miss Merrill has interested herself much in collecting funds for the Belgians, and has been appointed by Madame Vandervelde, wife of the Belgian Minister of State, as her representative in Canada for further collections.

Writing
Thomas O'Hagan: "Helen M. Merrill was born to the poetic purple. Her gift as a singer is a genuine one. Her work reveals a mind in close sympathy with nature whose subtle influence has moulded and fashioned her highest and holiest dreams. Not always is the thought of poetry born poetry –- more frequently is it incarnated in prose, then cradled and clad in the flowers of poetry. The test of true poetry is that it cannot be translated into prose without doing violence to its spirit. Now it will be found that Miss Merrill's poetry measures up to this test. It is thought, born on the mountain top and clad in the most fitting raiment."

Helen M. Merrill's Works:

Publications

Poetry
Sandpipers and Other Poems 1915.

Prose
Picturesque Prince Edward County. Gazette Printing House, 1892.
This page is based on the copyrighted Wikipedia Helen M. Merrill; it is used under the Creative Commons Attribution-ShareAlike 3.0 Unported License. You may redistribute it, verbatim or modified, providing that you comply with the terms of the CC-BY-SA.
A Hill Song
THERE is a little hint of spring,
A subtle, silent, unseen thing
By shadowed wall and open way,
And I, a gypsy for the day,
Go straying far beneath the sky,
And far into the windy hills,
Where distant, dim horizons lie,
And earth with gleams of heaven fills.