Hemant Shesh
Hemant Shesh
(28 December 1952 - / Jaipur, Rajasthan / India)
Biography of Hemant Shesh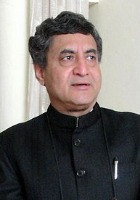 Hemant Shesh (Hindi: हेमंत शेष) was born on 28 December 1952 in Jaipur, Rajasthan) is an Indian Hindi writer, poet and civil servant.

Biography

Shesh completed his post graduate education from the University of Rajasthan in Jaipur. He then joined the Rajasthan Administrative Service in 1977. He has worked as District collector and magistrate in Pratapgarh district of Rajasthan state, and is currently working as a Registrar for the Board of revenue in Ajmer, Rajasthan.

Writings and Publications

He has published over twenty books including 13 of his own writings while the rest were ones he edited. and has been editor for Kala-Prayojan a quarterly literary magazine. Among his published work are eleven poetry collections. His poetry has also been translated into other languages, including non-Indian languages. Shesh has received many awards and honors.

Awards and Honors

He was awarded the K. K. Birla Foundation's Bihari Puraskar, a national award for the year 2009 for his collection of poetry titled Jagah Jaisi Jagah.

Hemant Shesh's Works:

Books Published

Jaari Itihaas Ke Viruddha, 1974 (long poem)
Beswaad Hawayen, 1981 (monograph)
Kripal Singh Shekhawat, 1981 (monograph)
Ghar-Baahar, 1982 (poetry collection)
Neend men Mohenjodaro, 1988 (poetry collection)
Vrikshon Ke Swapna, 1988 (poetry collection)
Ashuddha Saarang, 1991 (poetry collection)
Kasht Ke Liye Kshamaa, 1995 (poetry collection)
Kripayaa anyathaa Na Len, 1999 (long poem)
Aap Ko yah Jaan Kar Prasanntaa Hogee, 2001 (poetry collection)
Jagah Jaasee Jagah, 2006 (poetry collection)
Bahut Kuchh Jaisaa Kuchh Naheen (poetry collection)
Prapanch Saar Subodhnee (poetry collection)

Books in Print

Rajasthan Mein Aadhunik Kala (art criticism)
Khed-Yog-Pradeep (poetry collection)
This page is based on the copyrighted Wikipedia Hemant Shesh; it is used under the Creative Commons Attribution-ShareAlike 3.0 Unported License. You may redistribute it, verbatim or modified, providing that you comply with the terms of the CC-BY-SA.
A Poet Departs
And ultimately a poet unsung
Leaves the world silently
And shatters nothing, anywhere!

The world snoozes in slumber and wakes up with eternal ennui
Trudging on beaten paths planets and the Universes revolve!
Waves brim all seas
Flora breed on the plateaus...and thus the scenes grow old & older.