Henry Cuyler Bunner
Biography of Henry Cuyler Bunner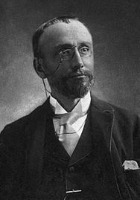 Henry Cuyler Bunner (3 August 1855 – 11 May 1896) was an American novelist and poet born in Oswego, New York.

He was educated in New York City. From being a clerk in an importing house, he turned to journalism, and after some work as a reporter, and on the staff of The Arcadian (1873), he became in 1877 assistant editor of the comic weekly Puck. He soon assumed the editorship, which he held until his death in Nutley, New Jersey. He developed Puck from a new struggling periodical into a powerful social and political organ. In 1886 he published a novel, The Midge, followed in 1887 by The Story of a New York House. But his best efforts in fiction were his short stories and sketches Short Sixes (1891), More Short Sixes (1894), Made in France (1893), Zadoc Pine and Other Stories (1891), Love in Old Cloathes and Other Stories (1896), and Jersey Street and Jersey Lane (1896). His verses Airs from A ready and Elsewhere (884), containing the well-known poem, The Way to Arcady; Rowen (1892); and Poems (1896), edited by his friend Brander Matthews, displaying a light play of imagination and a delicate workmanship. He also wrote clever vers de société and parodies. One of his several plays (usually written in collaboration), was The Tower of Babel (1883).

His short story "Zenobia's Infidelity" was made into a feature film called Zenobia starring Harry Langdon and Oliver Hardy by the Hal Roach Studio in 1939.
This page is based on the copyrighted Wikipedia Henry Cuyler Bunner; it is used under the Creative Commons Attribution-ShareAlike 3.0 Unported License. You may redistribute it, verbatim or modified, providing that you comply with the terms of the CC-BY-SA.
A Dead Woman
Not a kiss in life; but one kiss, at life's end,
I have set on the face of Death in trust for thee.
Through long years keep it fresh on thy lips, 0 friend!
At the gate of Silence give it back to me.