Henry Herbert Knibbs
Biography of Henry Herbert Knibbs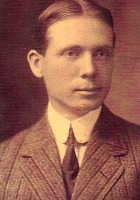 Henry Herbert Knibbs was born to American parents on October 24, 1874, in Clifton, Ontario (later known as Niagara Falls). He became fascinated by the fiddle and learned to play at an early age. He suffered from a respiratory ailment for most of his life. Knibbs never worked as a cowboy, but he wrote western short stories, novels and poems. His father, George Knibbs, was a bank clerk at Pierce, Howard and Co., Bankers in Niagara Falls, Ontario. Eventually the company failed, casting the family into hard times. Knibbs spent summer vacations at his grandparents' farm in Pennsylvania. On the farm, he developed a love of horses nearly as great as that for his fiddle. Though he never earned a college degree, Knibbs attended Woodstock College and Bishop Ridley College in Ontario and studied English at Harvard. Leaving college, he spent two years hoboing in the American Midwest. In 1899, he married Ida Julia Pfeifer and went to work for the railroad in Buffalo, N.Y. In 1910, he moved to California and wrote his first Western novel, Lost Farm Camp. He then left on a long trip through New Mexico, Arizona and California to soak up local color for his writing. In 1929, Knibbs left his wife to live with Turbesé Lummis Fiske. Ida refused to grant him a divorce and wrote him daily begging him to return home. Turbesé, whose father, Charles Lummis, was a Western writer, influenced and edited much of his later work. Knibbs wrote 13 novels and six books of poems. His novels are out of print and largely forgotten, but his poetry remains popular in cowboy poet circles. Among his best remembered poems are Boomer Johnson and When the Ponies Come to Drink. Seven films made between 1919 and 1930 were based on his stories and novels. Knibbs career as a Western write came to a sudden halt when he mistakenly gave the period of a mare's gestation as nine months in a story published in the Saturday Evening Post. He was crucified by his peers for the mistake. He certainly knew that the correct period was 11 months, but this slip of the pen cost him his writing career, as he was never able to get another piece published. He died in San Diego, California, on May 17, 1945, from respiratory illness.

Henry Herbert Knibbs's Works:

First poems, Rochester, New York, The Geneses Press, 1908
Songs of the Outlands: Ballads of the Hoboes and Other Verse, Houghton Mifflin, 1914
Riders of the Stars: A Book of Western Verse, Boston, Houghton Mifflin, 1916
Songs of the Trail, Boston, Houghton Mifflin, 1920
Saddle Songs and Other Verse, Boston, Houghton Mifflin, 1922
Songs of the Lost Frontier, Boston, Houghton Mifflin, 1930
This page is based on the copyrighted Wikipedia Henry Herbert Knibbs; it is used under the Creative Commons Attribution-ShareAlike 3.0 Unported License. You may redistribute it, verbatim or modified, providing that you comply with the terms of the CC-BY-SA.
Bronco Shod With Wings
Sing me a home beyond the stars, and if the song be fair,
I'll dwell awhile with melody--as long as mortal dare.
But sing me to the earth again on wide, descending wings,
That I may not forget the touch of homely human things.

Nor let my heart forget a friend, or turn from daily toil,
Though scant the measured recompense, the mean, the wine, the oil;
Nor scorn the rugged way I came with hunger pressing hard,
Before I knew the narrow gate or feared the breaking-yard.