Hershe Moore
Hershe Moore
(November 17,1975 / Texas)
Biography of Hershe Moore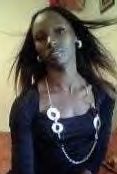 I'm a 32 year old mother of five born and raised here in Houston, Texas. Poetry is my first love. There's no better form of exppression than the use of words to me. A myriad of ways to express love, concern, hardship and emotion. Countless authors and musicians have inspire me and motivate my pen to move. I pray to be an inspiration to others as well.
Complete
His kisses pollinate my breast...
against his chest, heaving
breathing in his essence
His presence is demanded by my lips,
' Come closer',
you've gotta hear this!
Passion upon my tongue,
he layed the young girl in me to rest,
bringing forth my woman...