Hiren Bhattacharyya
Biography of Hiren Bhattacharyya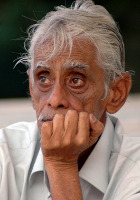 Hiren Bhattacharyya (Assamese: হীৰেন ভট্টাচাৰ্য) is one of the welknown poets in Assamese language. He has innumerable publications in Assamese and achieved many prizes and accolades for his poetry. He is known as Hiruda (Assamese: হীৰুদা) among his fans. Prem aru Rodalir Kobi (Poet of Love and Sunshine) (Assamese: প্ৰেম আৰু ৰ'দালিৰ কবি) is his another name in the Assamese literature.

Biography

He was born in Jorhat district at Assam in the year 1932. His father was Late Tirthanath Bhattacharyya and mother was Late Snehalata Bhattacharyya. His father was a jailer.

Literacy Work

Hiren Bhattacharyya mainly works in the field of Assamese poetry. he has been the editor of several Assamese magazines and newspapers. Some of the magazines are Chitrabon, Monon and Antorik.

Awards

Bishnu Rava Bota, 1958
Rajaji Puroskar, 1984-85 awarded by Bharatiya Bidya Bhawan
Soviet Desh Neheru Bota, 1987
Sahitya Akademi Award, 1992
Asom Upotyoka Sahitya Bota, (Assam Valley Literary Award) 2000 awarded by Megor Sikhya Nyash

Hiren Bhattacharyya's Works:

Books
His published anthologies of poetry include:

Roudro Kamona (1968)
Kobitar Rod (1976)
Tumar Bahi
Xugondhi Pokhilaa (1981)
Mor Desh aru Mor Premor Kobita (1972)
Bibhinno Dinor Kobita
Shoichor Pothar Manuh (1991)
Mur Prio Bornomala (1995)
Bhalpuwar Buka Mati' (1995)
Bhalpuwar Dikcou Batere (2000)

Collections of Nursery Rhymes
Lora Dhemali (1991)
Akon Dhemali (1991)

Others-
Ancient Songs,
Jonaki Mon O Onyano et.
This page is based on the copyrighted Wikipedia Hiren Bhattacharyya; it is used under the Creative Commons Attribution-ShareAlike 3.0 Unported License. You may redistribute it, verbatim or modified, providing that you comply with the terms of the CC-BY-SA.