Horatio Alger Jr
Biography of Horatio Alger Jr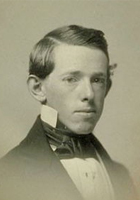 oratio Alger, Jr. (January 13, 1832 – July 18, 1899) was a prolific 19th-century American author, most famous for his novels following the adventures of bootblacks, newsboys, peddlers, buskers, and other impoverished children in their rise from humble backgrounds to lives of respectable middle-class security and comfort. His novels were hugely popular in their day.

Born in Chelsea, Massachusetts, the son of a Unitarian minister, Alger entered Harvard University at the age of 16. Following graduation, he briefly worked in education before touring Europe for almost a year. He then entered the Harvard Divinity School, and, in 1864, took a position at a Unitarian church in Brewster, Massachusetts. Two years later, he resigned following allegations he'd molested two teenage boys. He subsequently retired from the ministry entirely and moved to New York City where he formed an association with the Newsboys Lodging House and other agencies offering aid to impoverished children. His sympathy for the working boys of the city, coupled with the moral values learned at home, were the basis of his many juvenile "rags to riches" novels. He died in 1899.

The first Alger biography was published in 1928, and later proved to be heavily fictionalized. Other biographies followed, sometimes citing the 1928 hoax as fact. In the last decades of the twentieth century however, a few reliable biographies were published that corrected the errors and fictionalizations of the past.

Many of Alger's works have been described as rags to riches stories, illustrating how down-and-out boys might be able to achieve the American Dream of wealth and success through hard work, courage, determination, and concern for others. This widely held view involves Alger's characters achieving extreme wealth and the subsequent remediation of their "old ghosts." Alger is noted as a significant figure in the history of American cultural and social ideals.
Apple Blossoms
I sit in the shadow of apple-boughs,
In the fragrant orchard close,
And around me floats the scented air,
With its wave-like tidal flows.
I close my eyes in a dreamy bliss,
And call no king my peer;
For is not this the rare, sweet time,
The blossoming time of the year?