Hugh MacDiarmid
Biography of Hugh MacDiarmid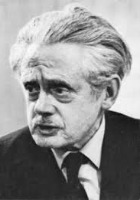 Hugh MacDiarmid is the pen name of Christopher Murray Grieve (11 August 1892, Langholm – 9 September 1978, Edinburgh), a significant Scottish poet of the 20th century. He was instrumental in creating a Scottish version of modernism and was a leading light in the Scottish Renaissance of the 20th century. Unusually for a first generation modernist, he was a communist; unusually for a communist, however, he was a committed Scottish nationalist. He wrote both in English and in literary Scots (often referred to as Lallans).
The Eemis Stane
I' the how-dumb-deid o' the cauld hairst nicht
The warl' like an eemis stane
Wags i' the lift;
An' my eerie memories fa'
Like a yowdendrift.

Like a yowdendrift so's I couldna read
The words cut oot i' the stane
Had the fug o' fame
An' history's hazelraw
No' yirdit thaim.