Hugh MacDiarmid
Biography of Hugh MacDiarmid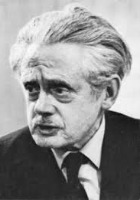 Hugh MacDiarmid is the pen name of Christopher Murray Grieve (11 August 1892, Langholm – 9 September 1978, Edinburgh), a significant Scottish poet of the 20th century. He was instrumental in creating a Scottish version of modernism and was a leading light in the Scottish Renaissance of the 20th century. Unusually for a first generation modernist, he was a communist; unusually for a communist, however, he was a committed Scottish nationalist. He wrote both in English and in literary Scots (often referred to as Lallans).
The Little White Rose
(To John Gawsworth)
The rose of all the world is not for me.
I want for my part
Only the little white rose of Scotland
That smells sharp and sweet—and breaks the heart.