Hugh McCrae
Hugh McCrae
(4 October 1876 - 17 February 1958 / Melbourne)
Biography of Hugh McCrae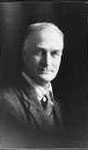 Hugh Raymond McCrae was an Australian writer.

McCrae was born in Melbourne, the son of the Australian author George Gordon McCrae. He was originally articled to an architect, but later took upon writing and acting, settling eventually in Sydney and Camden. His works are notable for a sense of lightness and delicacy, and he had produced, in addition to a volume of memoirs, a considerable body of verse, and a light operetta, an edition of his grandmother's journal, and a volume of prose pieces.

He wrote a fantasy play The Ship of Heaven which was produced by the Independent Theatre in 1933, for which Alfred Hill composed and conducted the music.

McCrae was well known to a number of distinguished figures in Australian artistic and literary circles. He is remembered for his friendships with Norman Lindsay and Kenneth Slessor, but he was also friendly with such figures as Christopher Brennan and Shaw Neilson.

Hugh McCrae's Works:

Satyrs and Sunlight (1909)
Columbone (1920)
Idyllia (1922)
Satyrs and Sunlight (1928; Fanfrolico Press)
The Mimshi Maiden (1938)
Poems (1939)
Forests of Pan (1944)
Voice of the Forest (1945)
Story-Book Only (1948)
The Ship of Heaven (1951)

Memoirs
My Father and My Fathers Friends. Sydney: Angus and Robertson, 1935
This page is based on the copyrighted Wikipedia Hugh McCrae; it is used under the Creative Commons Attribution-ShareAlike 3.0 Unported License. You may redistribute it, verbatim or modified, providing that you comply with the terms of the CC-BY-SA.
Australian Spring
The bleak faced Winter, with his braggart winds
(Coiled to his scrawny throat in tattered black),
Posts down the highway of his late domain,
His spurs like leeches in his bleeding hack.

He rides to reach the huge embattled hills
Where all the brooding summer he may lie
Engulfed in Kosciusko's silent snow,
His shadow waving o'er the lofty sky.