Hugo Williams
Biography of Hugo Williams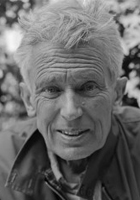 Hugo Williams (born Hugh Anthony Mordaunt Vyner Williams 20 February 1942) is a British poet, journalist and travel writer.
Rhetorical Questions
How do you think I feel
when you make me talk to you
and won't let me stop
till the words turn into a moan?
Do you think I mind
when you put your hand over my mouth
and tell me not to move
so you can "hear" it happening?