Biography of Humbert Wolfe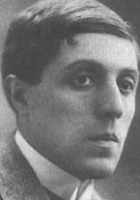 Humbert Wolfe CB CBE, was an Italian-born English poet, man of letters and civil servant, from a Jewish family background, his father being a German Jew (Martin Wolff) and his mother an Italian Jew (Consuela, née Terraccini).

He was one of the most popular authors of the 1920s. He is now remembered for his epigram:

You cannot hope
to bribe or twist,
thank God! the
British journalist.

But, seeing what
the man will do
unbribed, there's
no occasion to.

He was also a translator of Heinrich Heine, Edmond Fleg (1874-1963)and Eugene Heltai. A Christian convert, he remained very aware of his Jewish heritage.

His career was in the Civil Service, beginning in the Board of Trade and then in the Ministry of Labour. By 1940 he had a position of high responsibility. His work was recognised with a CBE and then a CB.

Wolfe's verses have been set to music by a number of composers, including Gustav Holst in his 12 Humbert Wolfe Settings, Op. 48 (1929).

He had a long-term affair with the novelist Pamela Frankau, while remaining married.

He died on his 55th birthday.

Humbert Wolfe's Works:

* London sonnets (1920)
* Shylock reasons with Mr. Chesterton: and other poems (1920)
* Circular saws (1923)
* Labour supply and regulation (1923)
* Lampoons (1925)
* The Unknown Goddess (1925) poems
* Humoresque (1926)
* News of the Devil (1926) poems
* Requiem (1927) poems
* Cursory Rhymes (1927) editor
* Others Abide (1927)
* Kensington Gardens (1924)
* Dialogues and monologues (1928) criticism
* This Blind Rose (1928) poems
* Troy (1928) Faber & Gwyer
* The Moon and Mrs. Misses Smith (1928)
* The Craft of Verse (1928) essay
* The Silver Cat and other poems (1928)
* Notes on English Verse Satires (1929)
* A Winter Miscellany (1930) editor
* Tennyson (1930)
* The Uncelestial City (1930)
* Early Poems (1930)
* George Moore (1931)
* Snow (1931) poems
* Signpost to poetry (1931)
* Reverie of policeman: A ballet in three acts (1933)
* Now a stranger (1933) autobiography
* Romantic and unromantic poetry 1933
* Portraits by inference (1934)
* Sonnets pour Helene (by Ronsard) (1934) translator
* X at Oberammergau : A poem (1935) drama
* The Fourth of August (1935) poems
* Selected Lyrics of Heinrich Heine (1935) translator
* P. L. M.: Peoples Landfalls Mountains 1936
* The Pilgrim's Way (1936)
* The Silent Knight : A romantic comedy in the year 1937
* Others Abide: Translated Greek Epigrams 1937
* The Upward Anguish (1938) autobiography
* Out of Great Tribulation (1939) poems
* Kensington Gardens in War-Time (1940) poems
This page is based on the copyrighted Wikipedia Humbert Wolfe; it is used under the Creative Commons Attribution-ShareAlike 3.0 Unported License. You may redistribute it, verbatim or modified, providing that you comply with the terms of the CC-BY-SA.
A Thrush In The Trenches
Suddenly he sang across the trenches,
vivid in the fleeting hush
as a star-shell through the smashed black branches,
a more than English thrush.

Suddenly he sang, and those who listened
nor moved nor wondered, but
heard, all bewitched, the sweet unhastened
crystal Magnificat.