Immortal Butterfly
Immortal Butterfly
(January20,1993 / Golden City MO.)
Biography of Immortal Butterfly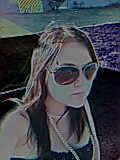 My Name Is Autumn I Currently Live In Golden City Missouri It's A Small Town But I Love It. Most Of My Poems Are Inspired By My Grandfather Who Died 5 Years Ago I Miss Him Dearly He Was My Best Friend.
Tears
Tears have came and tears have gone.
Everytime we say goodbye everytime you make me cry.
I just wanted to let you know through all those times,
I have always loved you.