Inner Whispers
Inner Whispers
[LIRIKA, LITRaTO] (May 25,2008 (d day this page was born) / Philippines)
Biography of Inner Whispers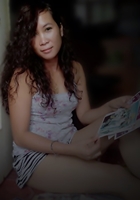 I prefer no penname but InNer WhisPers (aka Greca) . Grew with a will to accept challenges in life. Has interest of seeking the beauty of being a human molded by many struggles of fulfilling my dreams.

Am now a freelance photographer, working underground secretly. And until now i don't stop dreaming of beautiful colors i can portray with my works. And all of you whom I met and will be meeting give me inspiration. I see to it that I visit each of ur profile and let myself be fascinated with your works too. Indeed, we are all part of arts and poetry in our own ways...

I have been working in no time...not limiting myself to write whenever I get new ideas. And i'm really trying to be responsible being. And sharing my inner thoughts is a privilege I can't hold.

I took up criminology, computer programming and into photography and swarovski/jewelry art designing (entrepreneur) .

I admire the sun so much as it rises in the east and sets in the west...amazing colours!

Life is great. The body cooperates with the mind and I have a great heart for every positive way of life. I hate judgmental people. Each is unique. Each has songs hidden in their inner depths of inner thoughts. I believe in freedom of expression yet I still believe that there are words better kept than said. I am a very vulnerable woman though unpredictable and extraordinary sometimes but I feel the same as any human being who believes in lOve, hopes and dreams.

Poems are the songs of our soul...Sometimes our mirror of who we are or the inner wantings of our soul. Anyone can be a poet. Shakespeare's spirit resides to each one of us. We just have to listen from our inner whisper of our inner thoughts...

I am not a good poet as great as anyone here but I have in me the blood of being a poet that comes within my heart and soul...An exhaust from the real world... expressing the occurences of my imaginations, wants, desires, weaknesses, strengths, love, lust, beliefs and dreams...exercising freedom of expression.

Hope you read between the lines... Thanks for reading!


TIDBITS OF InNer WhisPers


My beauty regimen as an artist is seeing the world through creative eyes. I try to stay positive and remove negative clutter from my head. Reading a lot has helped me see and analyze situations from different prospective. What makes up my creative routine is the love of observing people and non-verbal messages they send through their body movements. I can paint especially when there's music around in the background. I'd like to teach art to children and the lessons have kids taught me is to enjoy the simple things in life, to take more risks, and most of all, to love more and judge less. I still don't enjoy wearing high heels but I wear them on events. I never wore make up, I'd like to write scripts, play guitar, record an album. Been always challenge my control on nude session paintings 'coz it takes hours to do so...there's so much possibility-the sky is the limit!

I like to focus on being healthy and doing things that makes me happy. If I feel like I look at my best then I'm not going to change who I am, no matter what people may demand of me. I'd respect their opinions but what matters most is what I believe who really I am. I've learned to accept that I have something no one else has and it's awesome! What's important is that I am doing what I love and am proud of it.
The Invisible Woman...
Looking around and she's nowhere to be found,
Haven't known her identity yet, to whom she was bound;
You ask her to stay, promise her, sure, you will be around,
And fill her longings, in sweetness profound!

She seems unreal, strong, amazingly perfect,
Swept away with great imaginations that makes you forget;
That very far she walks and maybe she can't be caught,
By the strong will you want to fight and hold...