Isatou Juwara
Isatou Juwara
(27 / Sukuta town)
Biography of Isatou Juwara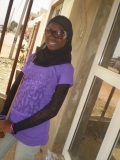 I'm just a simple girl from west africa who loves to read and write.I enjoy poetry and prose.I don't mind being friends with anyone cuz I just love making friends regardless of who you are or where you from.Am an open type and I like people who speak their mind.thats me! ! !
Life Difference
What makes our lives different;
Is the way we think,
And the way our destinies are laid for us.
Not all our thoughts are different;
But to be goody goody,
We try thinking good thoughts so much often.