Isatou Juwara
Isatou Juwara
(27 / Sukuta town)
Biography of Isatou Juwara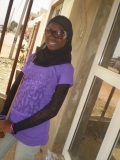 I'm just a simple girl from west africa who loves to read and write.I enjoy poetry and prose.I don't mind being friends with anyone cuz I just love making friends regardless of who you are or where you from.Am an open type and I like people who speak their mind.thats me! ! !
Love Heaven; Hate Death
More often than not; so much often than not,
We talk about heaven; we imagine heaven,
We pray and wish; to go to heaven,
Yet funnily enough; we don't want to die,
Or do you; well I don't! ! ! !