J.Edgar Middleton
Biography of J.Edgar Middleton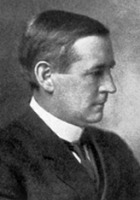 Jesse Edgar Middleton was a Canadian poet and songwriter, best known for writing the English lyrics to the "Huron Carol."

Life

He was born in Pilkington, Ontario, the son of Margaret Agar and Rev. Eli Middleton, a Methodist minister. He attended Dutton High School and Strathroy Collegiate. He then taught school for three years, and then became a proofreader in Cleveland, Ohio for three years. In 1899 he married Bessie A. Jackson, who bore him one son. He became music critic for the Mail and Empire, and in 1904 joined The News, where he wrote a column, "On the Side." He led the choir at Centennial Methodist Church, and sang in Toronto's Mendelssohn Choir.

He translated the "Huron Carol" (originally written in the Wendot language by Jean de Brebeu circa 1643) in 1926.

J.Edgar Middleton's Works:

Publications

Sea Dogs and Men at Arms: A Canadian Book of Songs. New York: G.P. Putnam's Sons, 1918.

Anthologized

"The Colonial," "Off Heligoland," "Hell's Half Acre": Canadian Poets (edited by John Garvin). Toronto: McClelland, Goodchild & Stewart, 1916.
"Jesous Ahatonhia (The Huron Carol)": Canadian Poetry in English (compiled by Bliss Carman, Lorne Pierce, and V.B. Rhodenizer). Toronto: Ryerson Press, 1954.
This page is based on the copyrighted Wikipedia J.Edgar Middleton; it is used under the Creative Commons Attribution-ShareAlike 3.0 Unported License. You may redistribute it, verbatim or modified, providing that you comply with the terms of the CC-BY-SA.
Off Heligoland
Ghostly ships in a ghostly sea,–
Here's to Drake in the Spanish main!–
Hark to the turbines, running free,
Oil-cups full and the orders plain.
Plunging into the misty night,
Surging into the rolling brine,
Never a word, and never a light,–
This for England, that love of mine!