J.S. Harry
Biography of J.S. Harry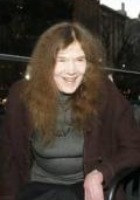 J. S. Harry (or Jan Harry; born 1939) is a contemporary Australian poet who has been described as "one of Australian poetry's keenest satirists, political and social commentators, and perhaps its most ethical agent and antagonist."

J. S. Harry was born in South Australia, but soon moved to Sydney where she has remained. She has worked as an editor for Radio National and has held a residency at Australian National University. A recurrent character in her work is Peter Henry Lepus, a rabbit who name-drops philosophers such as Bertrand Russel, Ludwig Wittgenstein and A. J. Ayer while popping up in the midst of topical events such as the Gulf War. His satirical "clear-eyed vision of the world, and the humans that inhabit it, is that of an Everyrabbit, with its endless simplicity, trepidation and curiosity."

Among other accolades J. S. Harry has won the Harri Jones Memorial Prize for Poetry, the Poetry Society's Book of the Year, the PEN International Lyne Phillips Poetry Prize and the Kenneth Slessor Prize for Poetry. Her most recent work is Not Finding Wittgenstein (2007) a 'collected works' of Peter Henry Lepus.

J.S. Harry's Works:

The Deer Under the Skin (1971)
Hold for a Little While, and Turn Gently (1979)
A Dandelion for Van Gogh (1985)
The Life on the Water and the Life Beneath (Sydney: Angus & Robertson/Paperbark, 1995)
Selected Poems (Ringwood, Vic.: Penguin, 1995)
Sun Shadow, Moon Shadow (Sydney: Vagabond, 2000)
Not Finding Wittgenstein (Giramondo, 2007)
This page is based on the copyrighted Wikipedia J.S. Harry; it is used under the Creative Commons Attribution-ShareAlike 3.0 Unported License. You may redistribute it, verbatim or modified, providing that you comply with the terms of the CC-BY-SA.
A Preface?
Peter Henry Lepus is not fond of "Prefaces"; he says that though they are the "face" you
see before the "face" of the other writing, he feels they should more properly be called
placed-first tail notes, as they are done after the longer writing.
Peter Henry has one paw resting
on a fat volume of Derrida;
he can't lift it but someone kind
has copied one whole paragraph out
in BIG letters
& pinned it to a broad-trunked tree.