Jacques Maurice
Jacques Maurice
(New Orleans)
Biography of Jacques Maurice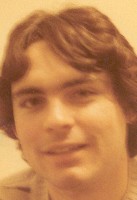 JACQUES MAURICE of New Orleans worked in the fields of lawn care and food service before making up the name JACK STRANGE for himself in the fiction, poetry, songwriting and recording industries. His books Stranger than Truth, Stories by Jack Strange (2004) and Would-Be Poems (2002) are available at www.lulu.com/jackstrange. Also check out his CDs Still Alone (2000) , Heartbeat (2001) , Ever Laughter (2003) , and Back in New Orleans (2007) at www.soundclick.com/jackstrange.

Jacques Maurice's Works:

Books:
Stranger than Truth, Stories by Jack Strange (2004)
Would-Be Poems (2002)

CDs:
Still Alone (2000)
Heartbeat (2001)
Ever Laughter (2003)
Back in New Orleans (2007)
Iii
She's a regular pigeon with a fancy tail,
And he's an old owl, or a crow that talks.
Now they're together in the very same jail,
Where neither can fly, and there's no room to walk.

No doubt PETA would be displeased
By the cruel entrapment of this mismatched pair.
Owls and crows are happier in trees,
And pigeons belong in the city square.