Jade da Rocha
Jade da Rocha
(02/10/1963 / Brazil)
Biography of Jade da Rocha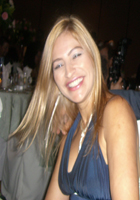 Jade Da Rocha, born in Brazil, currently lives in Boca Raton, Florida. Jade dedicates much of her time being involved in cultural and philanthropic events. She has:

Participated in the 1st Regional Fair of Science and Technology in G.V. - Brazil FECIVAL in G.V. – Brazil

Various Art fairs in Brazil

Work as a model for Medina Productions on advertising for Lewis, Kibon, and appear on clips production for the teather.

Promoter of Social Events such Fashion Shows and The First Summer Girl with Vivi Rocha and the Columnist Tania Azevedo; Night in Bahia I and II, Surprise Night, First Winter Girl w/Vivi Rocha and Tania Azevedo; Rock Night; various Vernissage at the Brazilian Cultural Space......

Writer for Tititi News as a free lance writer

Writer for Florida Review News Paper under 'Snap Shot' and Sales Advertising

Writer for the Gazeta Brazilian News under 'Poetry Corner' and 'Fashion & Art'

Writer for the States News/Diario do Rio Doce under 'Poetry Corner', 'Fashion & Art' and 'Jet Set International' – This newspaper circulates in Brazil as well as the United States and Jade has created a culture exchange between the U.S. and Brazil

Freelance journalist for Diario Do Brasil Newspaper, succursal of Jornal do Brasil and Star in America Newspaper and Sales Advertising.

Supported the campaign of Rio De Janeiro to host the 2004 Olympics by presenting a fashion show (FL) Supported the campaign against 'AIDS' presenting a Fashion Show at the 'Made in Brasil Boutique'

Supported the International Renaissance (Organization to help underprivileged children in
South America) with a beneficent fashion show at the 'Brazilian Tropicana'(FL)

Founder of "Caciques de Broward" (a carnival group) with the support of Paulo Gualano (FL)

Founded and patronized The Brazilian Cultural Space receiving the appreciation for the support of local and international artists and for enriching the cultural values in the community (FL)

Has been interviewed by American newspapers such as 'The Pelican', 'X'. Appeared on the 1st page of the special issue "City Plus" in the Sun Sentinel (FL)

Won award as a columnist 1996/1997 and for being active in the community from the Brazilian Paper (FL)

Semifinalist in the contest 'In a Different Light' by Library of Poetry with the poem "Just Moments" (USA)

Supported Topazio Academy of Capoeira (Afro Brazilian Folklore) by presenting a fashion show (FL)

Launched a Griffe Z.Rocha with a Fashion Show

Vice President of The Brazilian Cultural Union (FL)

Organized a musical with the Brazilian Cultural Union for Clauduarte at the theatre of the Ft. Lauderdale Library

Organized with the Brazilian Cultural Union the 1st Literary Contest of Broward County – writers from Brazil and the U.S. participated in this event

Poetry published in: States News, Gazeta, The Brazilian Paper, Florida Review, Library of Poetry, WWW.JADEREFLECTIONS.COM and WWW.TIOSAM.COM.
Dreaming Again
Like the water running
Washing away every stone on its way
I find myself dreaming again
Dreaming …of this infinity love.

Undying moments of ecstasy
Flowing thru my veins
Boiling my heart with your warmth