James Brasfield
Biography of James Brasfield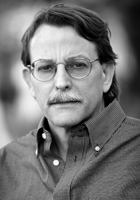 James Brasfield (born January 19, 1952 in Savannah, Georgia) is an American poet and translator.
He graduated from Armstrong State College, and Columbia University, with an MFA.
His work has appeared in AGNI, Chicago Review, Colorado Review, Crazyhorse, The Iowa Review, New Orleans Review, Poetry Wales, The Seattle Review, and The Southern Review.
He taught at Western Carolina University. He was visiting assistant professor in the University of Memphis. He was a Fulbright Scholar at the National University of Kyiv-Mohyla Academy, Ukraine. He teaches in the English Department at Pennsylvania State University.
Heart Of Dixie
Every day came, the char of silence and beauty,
brick foundations of what was here, dirt roads
cut through pines, rivers and the dust of the dead,
bone silt and a song, bird cries, the freight train

through the county, crops and cows, chickens wandering
a patch of yard, wind through sun-silvered leaves,
the clay baked hard, undulating in August, farmers
in a field, weathered wooden sheds, isolated.