James Martin Devaney
Biography of James Martin Devaney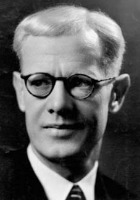 James Martin Devaney, poet, novelist, journalist and teacher, was born on 31 May 1890 at Sandhurst, Victoria, fourth child of Patrick Devaney, a labourer from Ireland, and his native-born wife Mary, née Conroy. Educated at Bendigo and at St Joseph's College, Hunters Hill, Sydney, in 1904 James entered the college's Marist Brothers' juniorate. In 1915 he made his final vows and took the religious name Fabian Joseph. Trained as a teacher, from 1911 he successively served in schools in Sydney, South Australia and New Zealand. Brother Fabian contracted severe tuberculosis and returned to Sydney in 1919 to teach at Darlinghurst. His Superior so relentlessly opposed adequate medical treatment that, driven to the point of despair, Devaney left the Order in July 1921. He recuperated in a sanatorium near Rockhampton, Queensland, and at the Diamantina Hospital, Brisbane. On 29 November 1924 at the Church of Mary Immaculate, Annerley, he married his nurse Phyllis Norah de Winton; they were to remain childless.

Living mostly in the Brisbane district, and at times in Sydney and at the Blue Mountains, Devaney established a career as a freelance journalist. Under the pen-name 'Fabian', from 1924 to 1943 he contributed a nature column to the Brisbane Courier (Courier-Mail from 1933) which was syndicated in other Queensland newspapers. He had a long association with the Catholic Leader as editor of its literary page and on occasions was acting-editor.

His volumes of verse, Fabian (Melbourne, 1923), Earth Kindred (Melbourne, 1931), Dark Road (Melbourne, 1938) and Where the Wind Goes (Sydney, 1939), established him as a fine lyric poet, well regarded by contemporary critics. Poems (Sydney, 1950) brought together selections from his earlier works and from Freight of Dreams which had been printed in Melbourne, but not released, in 1946. In Poetry in Our Time (Melbourne, 1952) he confronted modernism and forcefully expounded his own beliefs, but was seen by many critics as reactionary. Although his two historical novels, Currency Lass (Sydney, 1927) and Washdirt (Melbourne, 1946), were less successful, a volume of vivid and imaginative stories based on Aboriginal lore, Vanished Tribes (Sydney, 1929), enjoyed popular success; it was later used in schools and was an influence in the formation of the Jindyworobak movement. The New Law (Brisbane, 1955), a dramatic dialogue set in biblical times, received little critical attention.

Devaney played a leading role in the vigorous local literary community of the 1930s and 1940s: he provided a focus for the Catholic Poetry Society and was president (1944-45) of the Queensland Authors' and Artists' Association. While John Shaw Neilson convalesced in Devaney's Brisbane home in 1941, Devaney helped to transcribe his poems. His spirited defence of Neilson's painstaking craftsmanship—Shaw Neilson (Sydney, 1944)—disposed of criticism of Neilson as an 'instinctive warbler' and a 'thoughtless mystic'. In 1947 he edited the Unpublished Poems of Shaw Neilson (Sydney). That year he delivered lectures under the auspices of the Commonwealth Literary Fund, from which he subsequently received a pension. He supported the writing community through lectures and workshops, encouraged writers such as Oodgeroo Noonuccal (Kath Walker) and assisted others financially in the publication of their works. In 1958, in company with Professor Manning Clark and Judah Waten, he represented Australian writers on a visit to the Soviet Union.

Having interrupted his journalism, Devaney found it difficult to obtain the same work after World War II. In 1946 he had returned to teaching, first in Victoria and then at pastoral stations in Queensland. He resigned from his last post in February 1962 to nurse his wife. She died from a drug overdose in July. Her addiction had resulted in their virtual separation from the mid-1940s, but he had continued to hope for the eventual restoration of their domestic life. Tall, spare, gentlemanly and modest, Devaney was a humanitarian with a deep-rooted sense of justice. He remained a staunch Catholic, but no sectarian, who opposed intolerance and narrow-mindedness within the Church. Never afraid to speak his mind, he supported the Labor Party, advocated 'a democracy free from the monarchy' and was reputed to have declined appointment as M.B.E. in 1968. He died on 14 August 1976 in Brisbane and was buried in Redcliffe cemetery.

James Martin Devaney's Works:

Fabian: Poems, Melbourne: Lothian, 1923
The Currency Lass : a Tale of the Convict Days, Sydney: Cornstalk, 1927
The Vanished Tribes, Sydney: Cornstalk, 1929
The Girl Oona, and Other Tales of the Australian Blacks, Sydney: Cornstalk Publishing Co., 1929
The Witch-Doctor, and Other Tales of the Australian Blacks, Sydney: Angus and Robertson, 1930
I-rinka the Messenger, and Other Tales of the Australian Blacks, Sydney: Angus and Robertson, 1930
Earth Kindred, Melbourne: Frank Wilmot, Coles Library, 1931
Debutantes: a poem, Hawthorn East, Victoria: The Hawthorn Press, (1939?)
Dark Road, Hawthorn East, Victoria: Hawthorn Press, 1938,
Where the Wind Goes, Sydney: Angus and Robertson, 1939
Shaw Neilson, Sydney: Angus and Robertson, 1944
Washdirt: a novel of old Bendigo, Melbourne: Georgian House, 1946
Poems, Sydney: Angus and Robertson, 1950
This page is based on the copyrighted Wikipedia James Martin Devaney; it is used under the Creative Commons Attribution-ShareAlike 3.0 Unported License. You may redistribute it, verbatim or modified, providing that you comply with the terms of the CC-BY-SA.
Winter Westerlies
Leaning against the wind across the paddock ways
comes Dan home with forward stoop like a man bent and old,
clashes the door in haste as one pursued: 'By Christ, it's cold!'
and crooks his fingers to the blaze.

We do not live these days, but each exhausting day
unnerved we numbly wait return of life, and must abide
the wind, the still beleaguering wind; all voices else outside
imperioulsy it has blown away.