James Montgomery
Biography of James Montgomery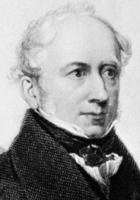 James Montgomery was a British editor, hymnwriter and poet. He was particularly associated with humanitarian causes such as the campaigns to abolish slavery and to end the exploitation of child chimney sweeps.

Early Life and Poetry

Montgomery was born at Irvine in Ayrshire, the son of a pastor and missionary of the Moravian Brethren. He was sent to be trained for the ministry at the Moravian School at Fulneck, near Leeds, while his parents left for the West Indies, where both died within a year of each other. At Fulneck, secular studies were banned, but James nevertheless found means of borrowing and reading a good deal of poetry and made ambitious plans to write epics of his own. Failing school, he was apprenticed to a baker in Mirfield, then to a store-keeper at Wath-upon-Dearne. After further adventures, including an unsuccessful attempt to launch himself into a literary career in London, he moved to Sheffield in 1792 as assistant to Joseph Gales, auctioneer, bookseller and printer of the Sheffield Register, who introduced Montgomery into the local Lodge of Oddfellows. In 1794, Gales left England to avoid political prosecution and Montgomery took the paper in hand, changing its name to the Sheffield Iris.

These were times of political repression and he was twice imprisoned on charges of sedition. The first time was in 1795 for printing a poem celebrating the fall of the Bastille; the second in 1796 was for criticising a magistrate for forcibly dispersing a political protest in Sheffield. Turning the experience to some profit, in 1797 he published a pamphlet of poems written during his captivity as Prison Amusements. For some time the 'Iris' was the only newspaper in Sheffield; but beyond the ability to produce fairly creditable articles from week to week, Montgomery was devoid of the journalistic faculties which would have enabled him to take advantage of his position. Other newspapers arose to fill the place which his might have occupied and in 1825 he sold it on to local bookseller John Blackwell.

Meanwhile Montgomery was continuing to write poetry and achieved some fame with The Wanderer of Switzerland (1806), a poem in six parts written in 7-syllable cross-rhymed quatrains. The poem addressed the French annexation of Switzerland and quickly went through two editions. When it was denounced the following year in the conservative Edinburgh Review as a poem that would be speedily forgotten, Lord Byron came to its defence in the satire English Bards and Scotch Reviewers. Nevertheless, within eighteen months a fourth impression of 1500 copies was issued from the very presses that had printed the critique and several more were to follow. This success brought Montgomery a commission from the printer Bowyer to write a poem on the abolition of the slave trade, to be published along with other poems on the subject in a handsome illustrated volume. The subject appealed at once to the poet's philanthropic enthusiasm and to his own touching associations with the West Indies. The four-part poem in heroic couplets appeared in 1809 as The West Indies.

Montgomery also used heroic couplets for The World before the Flood (1812), a piece of historical reconstruction in ten cantos. Following this he turned to attacking the lottery in Thoughts on Wheels (1817) and taking up the cause of the chimney sweeps' apprentices in The Climbing Boys' Soliloquies. His next major poem was Greenland (1819), a poem in five cantos of heroic couplets. This was prefaced by a description of the ancient Moravian church, its 18th century revival and mission to Greenland in 1733. The poem was noted for the beauty of its descriptions:

The moon is watching in the sky; the stars
Are swiftly wheeling on their golden cars;
Ocean, outstretcht with infinite expanse,
Serenely slumbers in a glorious trance;
The tide, o'er which no troubled spirits breathe,
Reflects a cloudless firmament beneath,
Where poised as in the centre of a sphere
A ship above and ship below appear;
A double image pictured on the deep,
The vessel o'er its shadow seems to sleep;
Yet, like the host of heaven, that never rest,
With evanescent motion to the west,
The pageant glides through loneliness and night,
And leaves behind a rippling wake of light.
(Canto 1, lines 1-14)

Later Career

After retiring from newspaper editorship, Montgomery's only other long poem is The Pelican Island (1828), nine cantos of descriptive blank verse of which he was scarcely a master. But Montgomery himself expected that his name would live, if at all, in his hymns. Some of these, such as "Hail to the Lord's Anointed", "Prayer is the Soul's Sincere Desire" and the carol "Angels from the Realms of Glory", are still sung. The earliest of his hymns dates from his days in Wath on Dearne and he added to their number over the years. The main boost came when the Revd James Cotterill arrived at the parish church (now the cathedral) in 1817. He had compiled and published A Selection of Psalms and Hymns Adapted to the Services of the Church of England in 1810 but to his disappointment and concern he found that his new parishioners did not take kindly to using it. He therefore enlisted the help of James Montgomery to help him revise the collection and improved it by adding some hymns of the poet's own composition. This new edition, meeting with the approval of the Archbishop of York (and eventually of the parishioners of St Paul's), was finally published in 1820. In 1822 Montgomery published his own Songs of Zion: Being Imitations of Psalms, the first of several more collections of hymns. During his life he composed some 400, although less than a hundred are current today.

From 1835 until his death Montgomery lived at The Mount on Glossop Road in Sheffield. He was very well regarded in the city and played an active part in its philanthropic and religious life. Following his death in 1854, he was honoured by a public funeral. In 1861 a monument designed by John Bell (1811-1895) was erected over his grave in the Sheffield cemetery at the cost of £1000, raised by public subscription at the initiative of the Sheffield Sunday School Union, of which he was among the founding members. On its granite pedestal is inscribed 'Here lies interred, beloved by all who knew him, the Christian poet, patriot, and philanthropist. Wherever poetry is read, or Christian hymns sung, in the English language, 'he being dead, yet speaketh' by the genius, piety and taste embodied in his writings.' There are also extracts from his poems "Prayer" and "The Grave". After it fell into disrepair the statue was moved to the precinct of Sheffield Cathedral in 1971, where there is also a memorial window.

Elsewhere in Sheffield there are various streets named after Montgomery and a Grade II listed drinking fountain on Broad Lane. The meeting hall of the Sunday Schools Union (now known as the Sheffield Christian Education Council), situated in Surrey Street, was named in his honour in 1886; it houses a small theatre which also bears his name. Elsewhere, Wath on Dearne, flattered by being called 'the queen of villages' in his work, has repaid the compliment by naming after him a community hall, a street and a square. His birthplace in Irving was renamed Montgomery House after he paid the town a return visit in 1841 but has since been demolished.

James Montgomery's Works:

Verses to the Memory of the Late Richard Reynolds, of Bristol, London: Longman, Hurst, Rees, Orme and Brown, 1816
Poetical Works, four editions in 1828, 1836, 1841, and 1854
ed. The Chimney-Sweeper's Friend and Climbing-Boy's Album, London: Longman, Hurst, Rees, Orme, Brown and Green, 1824. Garland facsimile, intro. by Donald H. Reiman, 1978
ed. The Christian Psalmist; or, Hymns, Selected and Original, Glasgow: Chalmers and Collins, 1825. 6th edn. 1829
ed. The Christian poet; or, selections in verse on sacred subjects, Wm Collins, Glasgow, 1825
Original Hymns For Public, Private, and Social Devotion, London: Longman, Brown, Green, 1853
Sacred Poems and Hymns: for Public and Private Devotion, New York: Appleton, 1854
Prose by a Poet, 2 vols, London: Longman, Hurst, Rees, Orme, Brown and Green, 1824
Lectures on Poetry and General Literature, London: Longman, Rees, Orme, Brown, Green and Longman, 1833
A Practical Detail of the Cotton Manufacture of the United States of America; and the State of the Cotton Manufacture of that Country Contrasted and Compared with that of Great Britain; with Comparative Estimates of the Cost of Manufacturing in both Countries, Glasgow: J. Niven, 1840
This page is based on the copyrighted Wikipedia James Montgomery; it is used under the Creative Commons Attribution-ShareAlike 3.0 Unported License. You may redistribute it, verbatim or modified, providing that you comply with the terms of the CC-BY-SA.
To The Temple I Repair
To Thy temple I repair;
Lord, I love to worship there
When within the veil I meet
Christ before the mercy seat.

I through Him am reconciled,
I through Him become Thy child.
Abba, Father, give me grace
In Thy courts to seek Thy face.