James Tate
James Tate
(8 December 1943 - / Kansas City, Missouri)
Biography of James Tate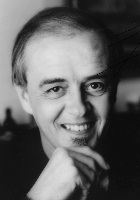 James Tate is an American poet whose work has earned him the Pulitzer Prize and the National Book Award. He is a professor of English at the University of Massachusetts Amherst and a member of the American Academy of Arts and Letters.

Early Life

James Vincent Tate was born in Kansas City, Missouri. He received his B.A. from Kansas State University in 1965 and then went on to earn his M.F.A. from the University of Iowa in their famed Writer's Workshop.

Career

Tate has taught creative writing at the University of California, Berkeley and Columbia University. He currently teaches at the University of Massachusetts, Amherst, where he has worked since 1971. He is a member of the poetry faculty at the MFA Program for Poets & Writers, along with Dara Wier and Peter Gizzi.

Dudley Fitts selected Tate's first book of poems, The Lost Pilot (1967) for the Yale Series of Younger Poets while Tate was still a student at the University of Iowa Writers' Workshop; Fitts praised Tate's writing for its "natural grace." Despite the early praise he received Tate alienated some of his fans in the seventies with a series of poetry collections that grew more and more strange.

He has published two books of prose, Dreams of a Robot Dancing Bee (2001) and The Route as Briefed (1999). His awards include a National Institute of Arts and Letters Award, the Wallace Stevens Award, a Pulitzer Prize in poetry, a National Book Award, and fellowships from the Guggenheim Foundation and the National Endowment for the Arts. He is currently a Chancellor of the Academy of American Poets.

Tate's writing style is difficult to describe, but has been identified with the postmodernist and neo-surrealist movements. He has been known to play with phrases culled from news items, history, anecdotes, or common speech; later cutting, pasting, and assembling such divergent material into tightly woven compositions that reveal bizarre and surreal insights into the absurdity of human nature.

Some of his additional awards not already mentioned include a National Institute of Arts and Letters Award, the Wallace Stevens Award, and fellowships from the Guggenheim Foundation and the National Endowment for the Arts. He is also currently a Chancellor of the Academy of American Poets.

James Tate's Works:

"The Eternal Ones of the Dream: Selected Poems 1990 - 2010" (Ecco Press, 2012)
The Ghost Soldiers (Ecco Press, 2008)
Return to the City of White Donkeys (2004)
Memoir of the Hawk (2002)
Shroud of the Gnome (Ecco Press, 1997)
Worshipful Company of Fletchers: Poems (Ecco Press, 1994) —winner of the National Book Award[5]
Selected Poems (Wesleyan University Press, 1991) —winner of the Pulitzer Prize and the William Carlos Williams Award)
Distance from Loved Ones (Wesleyan University Press), 1990)
Reckoner (Wesleyan University Press, 1986)
Constant Defender (Ecco Press, 1983)
Riven Doggeries (Ecco Press, 1979)
Viper Jazz (Wesleyan University Press, 1976)
Absences: New Poems (Little, Brown & Co., 1972)
Hints to Pilgrims(Halty Ferguson, 1971)
The Oblivion Ha-Ha (Little, Brown & Co., 1970)
The Torches (1968)
The Lost Pilot (Yale University Press, 1967)

Chapbooks

Lost River (Sarabande Books, 2003)
Land of Little Sticks (Metacom Press, 1981)
Just Shades (Parallel Editions, 1985, illustrated by John Alcorn)
Apology for Eating Geoffrey Movius' Hyacinth (Unicorn Press, 1972)
Amnesia People (Little Balkans Press, 1970)
Wrong Songs (H. Ferguson, 1970)
Shepherds of the Mist (Black Sparrow Press, 1969)
Torches (Unicorn Press 1968)

Prose

Dreams of a Robot Dancing Bee: 44 Stories (Verse Press, 2002)
The Route as Briefed (University of Michigan Press, 1999)
Hottentot Ossuary (Temple Bar Bookshop, 1974)

Collaborations

Lucky Darryl (Release Press, 1977, a novel co-written with Bill Knott)
Are You Ready, Mary Baker Eddy??? (Cloud Marauder Press, 1970, poems co-written with Bill Knott)
This page is based on the copyrighted Wikipedia James Tate; it is used under the Creative Commons Attribution-ShareAlike 3.0 Unported License. You may redistribute it, verbatim or modified, providing that you comply with the terms of the CC-BY-SA.
Goodtime Jesus
Jesus got up one day a little later than usual. He had been dream-
ing so deep there was nothing left in his head. What was it?
A nightmare, dead bodies walking all around him, eyes rolled
back, skin falling off. But he wasn't afraid of that. It was a beau-
tiful day. How 'bout some coffee? Don't mind if I do. Take a little
ride on my donkey, I love that donkey. Hell, I love everybody.