James Walter Orr
James Walter Orr
(02, June,1930 / Amarillo, Texas, U.S.A.)
Biography of James Walter Orr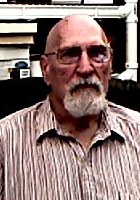 A Biography of James Orr for "Third Book from the Sun"

James Walter Orr was born in Amarillo, Texas, in 1930, in the fabled dust bowl days. He grew up on a farm and ranch. He has also written under the pen-name of Easy Seeker and ezseeker. He has been a husband and hobo, laborer and engineer, cowboy and truck driver, rancher and roustabout, hod-carrier and concrete finisher, rod-wrencher and pulling unit operator, and everything that has touched any of the above. He has hooked up many a separator, heater-treater and flow line manifold.

He has been a collar-pecker on a screw pipeline, pulled skids on a big-inch line, cut paraffin, handled a pipe jack, used a lazy board, run a gin-truck and hacked cross-ties. He has crumbed ditches and even shot the same. He has piss-anted flow line. He has been a radio activity log draftsman, instrument craftsman and a combiner.

He has performed the necessary surgery on an untold number of bulls and boars. He has notched ears and branded hips, stretched wire and built some of the prettiest fences ever built. He was an expert with a brick paddle. As a kid on the road, he has slept on top of buildings, in box cars, in the fields and under hedges, in empty airplanes in air-ports, cars, vestibules, post-office lobbies, in old boxes, deserted buildings and hobo jungles. He has been a bindle-stiff, if a brown paper bag will pass for a bindle. Oh yes! He has been a pretty good wind-mill man!

He has talked his way through the road blocks of many Indian villages in a South American uprising, and been in the ONLY car that was allowed to traverse the highway.

Other than a host of similar things, he has lived an ordinary life.

This is his third book of poetry.

James Walter Orr's Works:

Reflections of Love______ 150 pages
The Beckoning Hand______ 210 pages
Third Book from the Sun_ 110 pages
These books are all available at:
http: //www.JamesWalterOrr.com
PayPal accepted
Seduced
Seduced by the hopes of the future;
Seduced by the dreams of the past;
Seduced by the touch of a woman,
And a bubble that just couldn't last.

Fate plays a large part in our future.
Nothing can alter our past.
In the present, we go through the motions,
In days that go flying too fast.