Janet K. Rauch
Janet K. Rauch
(September 8,1952 / Flint, Michigan)
Biography of Janet K. Rauch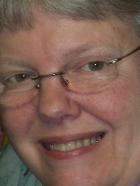 I've been pouring passion through my pen since grade school. My muse (Luna Muse) , is a fiesty one! She is the light that makes my third chakra (solar plexus) glow. She sparks my creativity, and keeps everyday passion alive and well. She nurtures my soul, walks beside me every step of my life journey. Together, we are endlessly connected to the Universe wherein the flow of energy is exchanged, moment by moment.

I am so blessed, so a-mused, so honored to have the gift of poetry...of raw self-expression. May I share it with you? Come journey with me!
My Round Room
Have you been inside my room?
It's round without a door.
Its windows are of cellophane
with paper blinds galore.

I love to sit within and
gaze beyond its colored blinds.
For I can see through time and space
or travel through a mind.