Janice Herzog
Janice Herzog
(July 17,1964 / Flint, Michigan)
Biography of Janice Herzog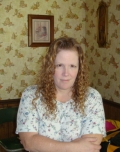 I am a single mother. I am 46 years old. I have one daughter, Kristen, who is 23. I have one granddaughter, Genevieve, who is 3. I started writng poetry in March of 2008. Most of my poems are love poems. They are my true emotions and feelings as I have experienced them. I believe in Destiny and Fate.
Love, Where Are You?
In all that I do
I keep looking for you
It eludes me still
While testing my will
I'm not asking for much
Only strong love with a gentle touch
One that's meant for only me
Which is also heavenly
Each time I pursue,
I ask, love where are you?