Janice Herzog
Janice Herzog
(July 17,1964 / Flint, Michigan)
Biography of Janice Herzog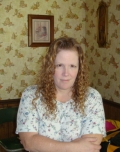 I am a single mother. I am 46 years old. I have one daughter, Kristen, who is 23. I have one granddaughter, Genevieve, who is 3. I started writng poetry in March of 2008. Most of my poems are love poems. They are my true emotions and feelings as I have experienced them. I believe in Destiny and Fate.
Destiny
You spoke to me about destiny
You spoke to me about fate
Are you really worth the wait?
Could it be just you and me?
Please don't hesitate
To believe in fate

Are we really meant to be?
Each other's destiny?