Janine Ecks
Biography of Janine Ecks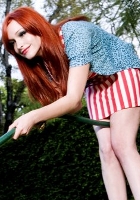 I've walked through the Inferno and lived to tell the tale. I'm a creature of the sensuous, and emotion is my muse. I am for you. Do what you will with me.
Embers
Your ghost on the horizon calls my name.
My arms reach out, yanking against the chains.
I cannot reach; again my will is drained...
I fall, I crush your memory to my core.

This carnal rage ignites a fire within.
The smoking embers sizzle through my skin
And fly off, ashes scattered on the wind,
Fly home to you, to be dust on your floor.