Janine Ecks
Biography of Janine Ecks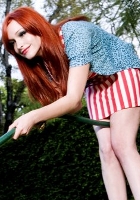 I've walked through the Inferno and lived to tell the tale. I'm a creature of the sensuous, and emotion is my muse. I am for you. Do what you will with me.
Samsara
Legions of lies, and my logic
In the face of illusion flies!
Was anything true that was uttered by you
Who triggered the heart's demise?

How miserable your carousel,
Rotating parade of worms
That eat away all but your surface.
What remains? A shell. The carousel turns.