Jason Persilver
Jason Persilver
(October 13,1983 / Franklin, Louisiana)
Biography of Jason Persilver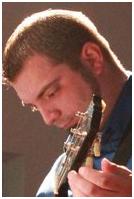 I was born in south Louisiana. The food there is awesome. When I was 10, we moved to Texas to start a Cajun restaurant. It was awesome. I soon learned that Mexican food is awesome. When I graduated high school, I joined the Marines. They are awesome too. I went to Japan and Iraq. One of those was not so awesome. I married my high school sweetheart, she is most awesome. I love music and playing guitar is my thing. I dabble with drums and piano, but guitar is the main instrument. Music is well….awesome. I play lead guitar for our church where I can share God's generous gift he gave me. Because he is awesome.

You can also see these at my main page:
http: //thenoisewithin.wordpress.com/

Jason Persilver's Works:

None. Yet. If I do, I hope it's awesome.
Naive
I sometimes think the young is most wise,
Many times though, they are subject to despise.
"They're babies so naïve, they know nothing at all.
How bold of them to think they can change the world."

Wisdom catches up though as time goes by,
And that soon hinders our ability to fly.
Foundations become firm in where they are laid,
Some cringe at the thought of change being made.