Jason Persilver
Jason Persilver
(October 13,1983 / Franklin, Louisiana)
Biography of Jason Persilver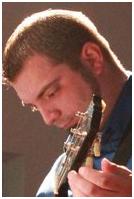 I was born in south Louisiana. The food there is awesome. When I was 10, we moved to Texas to start a Cajun restaurant. It was awesome. I soon learned that Mexican food is awesome. When I graduated high school, I joined the Marines. They are awesome too. I went to Japan and Iraq. One of those was not so awesome. I married my high school sweetheart, she is most awesome. I love music and playing guitar is my thing. I dabble with drums and piano, but guitar is the main instrument. Music is well….awesome. I play lead guitar for our church where I can share God's generous gift he gave me. Because he is awesome.

You can also see these at my main page:
http: //thenoisewithin.wordpress.com/

Jason Persilver's Works:

None. Yet. If I do, I hope it's awesome.
Maybe
He ran to the end, just to find his shadow.
He ran so hard, but the goal left him hollow.
Now alone, he shivers with cold,
Can he go back to the days of old?
Must he move on to something else?
Or put his soul in a box upon the shelf?
Maybe someone will buy it,
Maybe they'll see its worth,
Maybe it could be a gift,