Jayant Kaikini
Jayant Kaikini
(1955 - / Gokarna, Karwar, Uttar Kannada, Karnataka / India)
Biography of Jayant Kaikini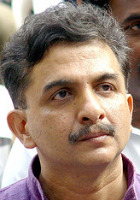 ayant Kaikini (or Jayanta Kāykiṇi, Kannada: ಜಯಂತ ಕಾಯ್ಕಿಣಿ) is a poet, short stories author and movie songs scriptwriter in Kannada.

Early Life

Jayant Kaikini was born in Gokarna. His father, Gourish Kaikini, a schoolteacher, was a Kannada littérateur and mother Shanta, a social worker. After a Masters in Biochemistry from Karnataka University, Dharwad, he moved to Mumbai where he worked as a chemist for many years. He now lives in Bangalore with his wife Smita and two children, Srajana (daughter) who is an Odissi dancer and architect, and Ritwik (son). Apart from Kannada Jayant is fluent in Konkani (his mother tongue), Marathi, Hindi and English.

Career

Jayant Kaikini is regarded as one of the most significant of the younger writers in Kannada today. He is a writer of short stories, film scripts and poetry, and is based in Bangalore. His poetry is characterised by subtle imagism, a minute documentation of the seemingly commonplace, a colloquial idiom and a conscientious refusal to engage in any poeticising. He has so far published six anthologies of short stories, four books of poetry, three plays and a collection of essays.

In an introduction to Dots and Lines, an English translation of Kaikini's short stories, critic C.N. Ramachandran writes, "To understand Jayant's works, we have to situate him in the literary context of the last two decades of the 20th century. During that period, there arose a group of writers who consciously differed from both the earlier Modernist writers (called Navya in Kannada) and those contemporaneous to them, the Writers of Protest (called Bandaya in Kannada) and Dalit writers. They did not subscribe to any particular philosophical or political system of thinking – be it Existentialism of the Modernists or the Leftist ideologies of the Dalit and Protest writers. On the other hand, what they wished to do was to select precise and authentic details of daily life and organise them in such a way as to culminate in a particular experience . . . Generally, their style was comic-ironic; and the language they used was the spoken language of day-to-day life. They were neither idealists nor cynics; they just wished to observe the life around them – generally mediocre – to register all the fleeting details that marked an ordinary man's daily routine, and lead up to an experience rich in connotations. Jayant was a major figure in this group of writers who, loosely, can be called 'post-modernist'."

Jayant Kaikini started writing lyrics to film songs from movie Chigurida Kanasu (Song: Aha enidenidenu). He is the person who has revolutionized the concept of Kannada film songs, with the classic touch of literature and beautiful, soft, lovely imaginations. Films like Mungaaru Male, Gaalipata, Geleya, Milana etc. has some touchy and memorable poems penned by him.And the film Birugali has also great superhit songs like "madhura pisumathige","Hoovina Banadanthe" etc. which also come in the list of his memorable and touchy poems or songs.

He was hosting a TV Show "Rasa Rushige Namaskara" in Etv Kannada which a biography on Rashtrakavi Kuvempu. This show was very popular with a particular section of audience. He continued it with other series' such as "Kadala Theerada Bharghava",....etc.Lately he was seen judging the reality show "Yede tumbi Haaduvenu" along with the legendary singer S.P.Balasubrahmanyam and famous Kannada music director and lyricist naada brahma Hamsalekha.

Kaikini received the Karnataka Sahitya Academy award for his first poetry collection at the age of nineteen in 1974. He received the same award again in 1982, 1989 and 1996 for his short story collections. He has been awarded the Dinakara Desai award for his poetry, the B. H. Sridhar award for fiction, as well as the Katha National award and Rujuwathu trust fellowship for his creative writing.

Filmfare Awards

Won
Best Lyricist (2008) : Gaalipata - "Minchagi Neenu Baralu"
Best Lyricist (2009) : Manasaare - "Yello Maleyaagide yendu"

Nominated
Best Lyricist (2009) : MaLeyali Jotheyali - "Ni Sanihake Bandare"
Best Lyricist (2010) : Krishnan Love Story - "Hrudayave"

Jayant Kaikini's Works:

Poetry and Stories
Rangadindostu doora. Published by Akshara Prakashana, Sagar, Karnataka 1974.
Kotitirtha. Published by Akshara Prakashana, Sagar, Karnataka 1982.
Shravana Madhyahna. Published by Akshara Prakashana, Sagar, Karnataka 1987.
Neelimale. Published by Patrike Prakashana, Bangalore 1997.
Theredashte Baagilu, short stories.
Dagadoo Parabana Ashwamedha, short stories.
Amruthaballi Kashaya, short stories.
Bogaseyalli Male, collection of reflections
Shabda Theera, collection of reflections
Bannada Kaalu -Published by 'Ankita Pustaka'
Toofan Mail, collection of short stories.
Ondu jilebi, Released on December 28, 08 by 'Ankita Pustaka'.
Charminaar, 2012 Published by 'Ankita Pustaka'

Songs
Ee Sanje Yakaagide (Geleya)
Ninnindale (Milana)
Anisutide yako indu (Mungaru male)
Kunidhu Kunidhu Baare (Mungaru Male)
Male nintu hoda mele (Milana)
Male baruva hagide (Moggina manasu)
Madhuvana karedare (Inti ninna preetiya)
Beladingalante minuminuguta (Pyscho)
Hey mouna (Krishna)
Minchagi neenu (Gaalipata)
Poorva para
Madhura Pisumathige (Birugali)
Maleya Haniyalli (Januma Janumadallu)
Yaaro kooda Ninna haage (Love Guru)
Yello Maleyaagide yendu (Manasaare)
Chalisuva Cheluve (Ullasa Utsaha)
Ondu Kanasu (Manasaare)
Nee Sanihake Bandhare (Maleyali Jotheyali)
Kudi nootave (Parichaya)
Hoovina Baanadanthe Yaarigu Kaanadanthe (Birugaali)
Aaaramage yiddenaanu (Gokula)
neenendare nannolage (junglee)
Hrudayave bayaside ninnane(krishnan Love Story)
Ninna gungalle..Lifeu Ishtene
paravashanaadenu... (Paramathma)
Yenendu Hesaridali E Chanda Anubhavake(Anna_Bond)
He has also written the scripts of many movies.
This page is based on the copyrighted Wikipedia Jayant Kaikini; it is used under the Creative Commons Attribution-ShareAlike 3.0 Unported License. You may redistribute it, verbatim or modified, providing that you comply with the terms of the CC-BY-SA.
At The End Of The Vigil
The nurse is at the bus stop
Leaving the night-shift behind her
A milk van and a rickshaw pass by
Leaving a whiff of incense
The doc who had come for an emergency
In pyjamas is honking at the exit gate
Those weary after running around
In tunnel dreams are rising sluggishly like statues
On the footpath