Jayanta Mahapatra
Biography of Jayanta Mahapatra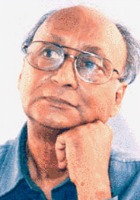 Jayanta Mahapatra is one of the best known Indian English poets. Perhaps any discussion on Indian English Poetry is incomplete without reference to his poetical works. Physicist, bilingual poet and essayist, Jayanta Mahapatra holds the distinction of being the first Indian English poet to have received the Sahitya Akademi Award (1981) for Relationship. In 2009 he was awarded by Government of India with "Padmashree Award", country's most prestigious award for civilian citizen for his out standing contribution to the field of literature.

Birth and Early Life

Jayanta Mahapatra, born on 22 October 1928 in Cuttack ( India ), belongs to a lower middle-class family. He had his early education at Stewart school, Cuttack . After a first class Master's Degree in Physics, he joined as a teacher in 1949 and served in different Government colleges of Orissa.

Later Life

All his working life, he taught physics at different colleges in Orissa. He retired in 1986. Mahapatra has authored 18 books of poems. He started writing poetry at the age of thirty-eight, quite late by normal standards. Mahapatra's tryst with the muse came rather late in life. He published his first poems in his early 40s. The publication of his first book of poems, Svayamvara and Other Poems, in 1971 was followed by the publication of Close the Sky, Ten By Ten.

His collections of poems include A Rain of Rites, Life Signs and A Whiteness of Bone. One of Mahapatra's better remembered works is the long poem Relationship, for which he won the Sahitya Akademi award in 1981. He is the first Indian English Poet to receive the honor. Besides being one of the most popular Indian poets of his generation, Mahapatra was also part of the trio of poets who laid the foundations of modern Indian English Poetry. He shared a special bond with A. K. Ramanujan, one the finest poets in the IEP tradition. Mahapatra is also different in not being a product of the Bombay school of poets. Over time, he has managed to carve a quiet, tranquil poetic voice of his own--distinctly different from those of his contemporaries. His wordy lyricism combined with authentic Indian themes puts him in a league of his own.

His recent poetry volumes include Shadow Space, Bare Face and Random Descent. Besides poetry, he has experimented widely with myriad forms of prose. His lone published book of prose remains The Green Gardener, a collection of short stories. A distinguished editor, Jayanta Mahapatrahas been bringing out, for many years, a literary magazine, Chandrabhaga , from Cuttack . The magazine is named after Chandrabhaga, a prominent but dried-up river in Orissa.

Vision of Poetry

"To Orissa, to this land in which my roots lie and lies my past and in which lies my beginning and my end..." declared the poet in his Award-receiving speech at the Sahitya Akademi, New Delhi.

The clue to understand Mahapatra's poetry is given by the poet himself:
"My poems deal with the life within myself where the mind tries to find a sort of coherence from the mass of
things in the world outside it."

Awards

Second Prize International Who's Who in Poetry, London, 1970.
Jacob Glatstein Memorial Award Poetry, Chicago, 1975.
Visiting Writer International Writing Program, Iowa City 1976-77.
Cultural Award Visitor, Australia, 1978.
Japan Foundation Visitor's Award, Japan, 1980.
Sahitya Academy Award National Academy of Letters, New Delhi, 1981.
Invited Poet Asian Poets Conference, Tokyo, Japan, 1984.
Indo-Soviet Cultural Exchange Writer, USSR, 1985.
Resident Writer Centro Culturale della Fondazione Rockefeller, Bellagio, Italy, 1986.
Invited Poet University of Malaysia, Kuala Lumpur, 1988.
Singapore Festival of Arts, Singapore. 1988.
New Literatures in English Conference, Justus-Liebig-Universitat, Giessen,
West Germany, 1989
ACLALS Silver Jubilee Conference, Canterbury, England, 1989.
First Prize Scottish International Open Poetry Competition, 1990.
Invited Poet Poetry International, The South Bank Centre, London, England, 1992.
Cuirt International Poetry Festival, Galway, Ireland, 1992.
EI Consejo Nacional Para la Cultura y las Artes, Mexico. 1994
Mingei International Museum of World Folk Art, La Jolla, USA. 1994.
Gangadhar National Award For Poetry, Sambalpur University, 1994
Ramakrishna Jaidayal Harmony Award, 1994, New Delhi.
Vaikom Mohammad Basheer Chair Mahatma Gandhi University, Kottayam, 1996-97.
Invited Poet ACLALS Conference, Kandy, Sri Lanka, 1998.
Awarded Honorary Degree Doctor of Literature, Utkal University, Bhubaneswar, 2006.
Invited Poet Weltklang Poetry Festival, Berlin, Germany, 2006.
Bishuva Award Prajatantra Prachara Samiti, Cuttack, 2007.
Padma Shree Award India's Padma Shree Award, 2009.
SAARC Literary Award, New Delhi, 2010

Poetry Readings

Outside India

University of Iowa, Iowa City, 1976
University of Tennessee, Chattanooga, 1976
University of the South, Sewanee, 1976
East West Center, Honolulu, Hawaii, 1976
Adelaide Festival of Arts, Adelaide, 1978
P.E.N. Centre, Sydney, 1978
Australian National University, Canberra, 1978
International Poets Conference, Tokyo, 1980
Asian Poets Conference, Tokyo, 1984
Aoyama University, Tokyo, 1984
Sapporo University, Sapporo, 1984
Writers Union, Moscow, Leningrad & Lvov, USSR, 1985
Singapore Festival of Arts, Singapore, 1988
Dewan Bahasa dan Pustaka, Kuala Lumpur, 1988
University of Malaysia, Kuala Lumpur, 1988
Universitas Indonesia, Jakarta, 1988
University of the Philippines, Manila City, 1988
Museong Kalinangang Pilipino, Manila, 1988
Irish Writers Centre, Dublin, Ireland, 1992
Sligo Arts Centre, The Grammar School, Sligo, 1992
The Guild Hall, Derry, 1992
WEA, Newcastle-upon-Tyne, Hexham and Durham, 1992
The South Bank Centre, London, 1992
Universities of Hull and Leeds (UK), 1992
The Naropa Institute, Boulder,Colorado, 1994
Instituto de Cultura de Campeche, Mexico, 1994
Instituto de Cultura de Puebla, Mexico,1994
Clark Atlanta University, Atlanta, USA, 1995
Hunter College, New York, USA, 1995
University of the South, Sewanee, USA, 1995
Writers Forum, De Kalb College, Atlanta, USA, 1995
Writers Forum, St. Andrews College, Laurinburg, USA, 1995
British Council, Kandy, 1998
Indian Cultural Centre, Colombo, 1998

In India

Andhra University, University of Jadavpur, Calcutta University, University of Delhi, Osmania University, The Poetry Centre - Hyderabad, Visva-Bharati - Santiniketan, North East Hill University - Shillong, Tezpur University - IIT Guwahati, India International Centre - New Delhi, Bharat Bhavan - Bhopal, University of Lucknow, DAV College - Kanpur, Arts, Science & Commerce College - Durg.

Jayanta Mahapatra's Works:

Poetry

1971: Svayamvara and Other Poems
1971: Close the Sky Ten by Ten
1976: A Father's Hours
1976: A Rain of Rites
1979: Waiting
1980: The False Start, Bombay: Clearing House
1980: Relationship
1983: Life Signs
1986: Dispossessed Nests
1987: Selected Poems
1988: Burden of Waves & Fruit
1989: Temple
Bare Face
Shadow Space
The best of Jayanta Mahapatra
A Whiteness of Bone
2005: Random Descent, Third Eye Communications
2006: Samparka, Natuna Dilli: Sāhitya Akādemi
2009 The lie of Dawns: Poems 1974 - 2008

Prose

The Green Gardener, short stories
Door of Paper: Essay and Memoirs
Mahapatra's poems have been anthologized in the celebrated volumes of Indian poetry edited by R. Parthasarathy and Arvind Krishna Mehrotra. Significant anthologies in which his work appears are:
The Poetry Anthology 1912 - 1977, Boston, USA (Houghton Milfin, 1978)
The Vintage Book of Contemporary Poetry ( J.D McClatcky, Editor - Random House, USA, 1996)
The Poetry Anthology 1912 -2002, Chicago, USA (Ivan R. Dee, 2002)

Critical Studies

2001: Bijay Kumar Das, The Poetry of Jayanta Mahapatra: third revised and enlarged edition; New Delhi, Atlantic,
2006: Jaydeep Sarangi and Gauri Shankar Jha, editors, The Indian Imagination of Jayanta Mahapatra, New Delhi, Sarup and Sons, 2006, a compilation of critical articles
This page is based on the copyrighted Wikipedia Jayanta Mahapatra; it is used under the Creative Commons Attribution-ShareAlike 3.0 Unported License. You may redistribute it, verbatim or modified, providing that you comply with the terms of the CC-BY-SA.
A Rain Of Rites
Sometims a rain comes
slowly across the sky, that turns
upon its grey cloud, breaking away into light
before it reaches its objective.

The rain I have known and traded all this life
is thrown like kelp on the beach.
Like some shape of conscience I cannot look at,
a malignant purpose is a nun's eye.