Jeanne Robert Foster
Biography of Jeanne Robert Foster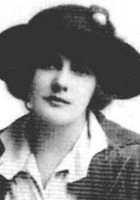 Jeanne Robert Foster was an American poet from the Adirondack Mountains. She was born Julia Elizabeth Oliver in Johnsburg, New York.

In 1896 she married Matlock Foster, and lived in Rochester, New York. She studied drama at the Stanhope-Wheatcroft Dramatic School, and worked in magazine journalism. She became a leading fashion model. The couple then moved to Boston; she continued to work as a journalist there and in New York, becoming literary editor of the American Review of Reviews.

In 1916 she began to publish narrative verse about the Adirondacks. From this period she travelled in Europe, met important figures of modernism, and co-operated with the collector John Quinn in building up his contemporary art collection. After Quinn's death in 1924 Jeanne helped prepare the collection of his letters that became the John Quinn Memorial Collection at the New York Public Library. The collection includes an extensive correspondence with Joseph Conrad.

In 1932 she moved to Schenectady, where she worked as a social worker.

Jeanne's friends included many of the period's leading authors and artists. She was particularly close to Ford Madox Ford, Ezra Pound, and William Butler Yeats. She also had a relationship with the English author and occultist Aleister Crowley.

She is buried near her friend John Butler Yeats, the painter and father of William Butler Yeats, in the Chestertown Rural Cemetery in the Adirondacks. Her own papers can be found in the Jeanne R. Foster-William M. Murphy Collection at the New York Public Library and at Harvard University's Houghton Library, which holds her correspondence with poet and author Ezra Pound.

Jeanne Robert Foster's Works:

Neighbors of Yesterday (1916)
Wild Apples (1916)
This page is based on the copyrighted Wikipedia Jeanne Robert Foster; it is used under the Creative Commons Attribution-ShareAlike 3.0 Unported License. You may redistribute it, verbatim or modified, providing that you comply with the terms of the CC-BY-SA.
The Bitter Herb
O bitter herb, Forgetfulness,
I search for you in vain;
You are the only growing thing
Can take away my pain.

When I was young, this bitter herb
Grew wild on every hill;
I should have plucked a store of it,
And kept it by me still.