Jeanne Trew
Jeanne Trew
(December 21,1952 / Fall River, Massachusettes)
Biography of Jeanne Trew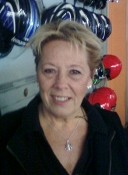 Born in Massachusettes under the name Jeanne Pauline Dextraze, moved to San Diego, CA at 8 years of age. At 12, moved to Willimantic, CT. Married and raised 2 children. My Corporate Education & Training Consulting position with General Dynamics Corporation led to my eventual return to San Diego, CA where I was employed by Space Systems. Due to the later sale of my division to Lockheed Martin, I relocated to Littleton, CO and eventually transfered to Santa Clara, CA. I am now a retired grandmother of 6, who enjoys writing, music, ocean kayaking, swimming and travelling the world.

Jeanne Trew's Works:

Pending: 'Tell Me How Good It Feels - Recovering from Child Sexual Abuse'
Give And Take
Human nature is a funny thing... selfish, at times.
Some, willing to take as much, as another is willing to give.
Fighting the urge to take, will allow your relationship to live!

Conversely, by not EVER receiving, you rob your partner of the joy that giving can bring.
Equal give AND take will make your relationship sing!