Jeff Bresee
Jeff Bresee
(10/29/1970 / Salt Lake City)
Biography of Jeff Bresee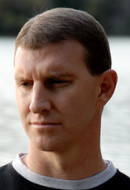 I love to create and see where inspiration takes me. I have spent my life living with an eye open for those little things that can lead to the next idea, invention, book song... or poem.

This is my poetry collection. I hope you enjoy.

Also to check out the music I write, see weatheredpages.com

Jeff Bresee's Works:

The Hidden Story - The Poetry of Jeff Bresee
A Better Way
It seems so very long ago, and yet like yesterday,
We stood as one and made our vows to love and to obey.

And with this oath we sealed our love until "at death we part".
Thereafter, pondering…these few words served but to pierce my heart.

Then days rolled into weeks and months, and months rolled into years;
Without a compass, dreams now ash, and laughter quenched by tears.