Jennifer Wong
Jennifer Wong
(Hong Kong, China)
Biography of Jennifer Wong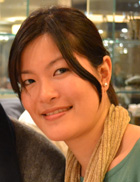 Jennifer Wong is born and grew up in Hong Kong. She is the author of two poetry collections, including Summer Cicadas (2006) and Goldfish (2013) , both of which are published by Chameleon Press.

Her poems have appeared in journals including Cha, Eyewear, Morning Star, Frogmore Papers, Warwick Review, Orbis, TATE ETC, UCity Review, QLRS (Quarterly Literary Review of Singapore) , Fusion by Prairie Schooner (August 2013 edition) , Iota, New Writer and poetry anthologies. Her works have been included in Oxfam anthology of Young British Poets edited by Todd Swift and Kim Lockwood (Cinnamon Press 2012) , The World Record edited by Neil Astley and (Bloodaxe Books 2012) .

She graduated from Oxford and took an MA in creative writing at the University of East Anglia. She has taught poetry as writer-in-residence at Lingnan University. Recently, she took part in Poetry Parnassus Festival organised by Southbank Centre and the Hong Kong Literary Festival 2012.

Jennifer Wong's Works:

Summer Cicadas (2006) by Chameleon Press
Goldfish (2013) by Chameleon Press
Jennifer Wong Poems
Home
The more you think of it the less there is to miss - and with a steady hand you empty the jug in your head - multi-storeys
Flesh
You cut my heart into half, A quarter, A slice. You make a wild game out of it.
Amniotic
In the morning before the schoolbus came you pressed and folded into my small palm four dollar coins.
All poems of Jennifer Wong »
Share your comments »
Amniotic
In the morning before the schoolbus came
you pressed and folded into my small palm
four dollar coins.

You were a tall woman in a blue nightgown
and I was just this anyothergirl
who wore a pink rucksack and dreamt
of birthday sleepovers and piano lessons
I'd never had. I felt a lump walking down