Jessica Bunnell
Jessica Bunnell
(June 1,1988 / Muskegon Michigan USA)
Biography of Jessica Bunnell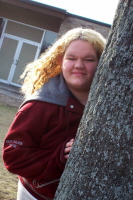 I was born and raised in West Michigan along the shores of beautiful Lake Michigan. I graduated from Orchard View High School in June of 2006. I am now attending Muskegon Community College, concentrating on Biology.
Abandoned
It seems as though I have no friends,
Those I've had are gone.
They said they'd be here 'til the end,
But that's better said than done.

I'm sick of always having to be
The one that makes the calls.
Maybe it's time they finally see-
I don't really care at all.