Jessica Bunnell
Jessica Bunnell
(June 1,1988 / Muskegon Michigan USA)
Biography of Jessica Bunnell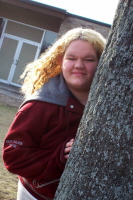 I was born and raised in West Michigan along the shores of beautiful Lake Michigan. I graduated from Orchard View High School in June of 2006. I am now attending Muskegon Community College, concentrating on Biology.
Carpe Diem
At any moment in this lifetime,
There's a tragedy ahead.
We don't know where each path will lead,
In mere seconds, we could be dead.

There'll be surprises around every corner,
And of course there'll be wrong turns and dead-ends.
Data won't help us in the future,
It merely tells us where we've been.