Jessica Bunnell
Jessica Bunnell
(June 1,1988 / Muskegon Michigan USA)
Biography of Jessica Bunnell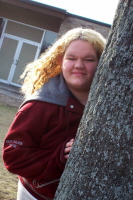 I was born and raised in West Michigan along the shores of beautiful Lake Michigan. I graduated from Orchard View High School in June of 2006. I am now attending Muskegon Community College, concentrating on Biology.
Innocence
I remember when boys meant yuck
And friendships were new.
Our dreams were not shattered,
Our worries were few.

Recesses were too short;
Life was too long.
All of our decisions came easily,
There was no need to belong.