Jessica Bunnell
Jessica Bunnell
(June 1,1988 / Muskegon Michigan USA)
Biography of Jessica Bunnell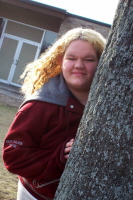 I was born and raised in West Michigan along the shores of beautiful Lake Michigan. I graduated from Orchard View High School in June of 2006. I am now attending Muskegon Community College, concentrating on Biology.
Dedicated To...
My life's been filled with sorrows and fears
And always with those retched tears.
But now it all seems to be falling apart.
You rushed into my life and when you left, you broke my heart.

There are many things I wish I would've said.
But if I say them now, they are nothing but dead.
Dead to you ears, and dead to your soul,
Dead to your heart as you dig yourself deep in a hole.