jessie kollar
jessie kollar
(08311980 / new york)
Biography of jessie kollar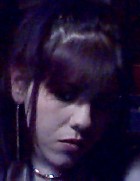 I grew up in a small town named willington CT, as a little girl I would dig for salamanders and twerl in my scerts.
now as an adult Ii watch my kids digg for bugs take care of them and when there in bed and sleeping I still love to put on that one scert and twerl untill I cant see straight.
my life had been very shelterd and loved but in the mix somewhere someone had forgoten to teach me what reality was so no in my aging, I now learn for myself what hasnes comes with my true life and the emotions of others.

jessie kollar's Works:

none yet!
Love In The Wind
I sense theres somthing in the wind
that feels like tragedys at hand and though Id like to stand by him
can't shake this feeling that I have,
the worst is just around the bend

And does he notice my feelings for him?
and will he see how much he means to me?
I think its not to be.