jessie kollar
jessie kollar
(08311980 / new york)
Biography of jessie kollar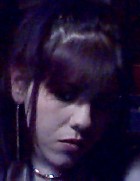 I grew up in a small town named willington CT, as a little girl I would dig for salamanders and twerl in my scerts.
now as an adult Ii watch my kids digg for bugs take care of them and when there in bed and sleeping I still love to put on that one scert and twerl untill I cant see straight.
my life had been very shelterd and loved but in the mix somewhere someone had forgoten to teach me what reality was so no in my aging, I now learn for myself what hasnes comes with my true life and the emotions of others.

jessie kollar's Works:

none yet!
Me And The Unknown
Another day I've come this far,
Where will this world take me?
I haven't the strength or the knowledge,
But I'm willing to seek what I rightfully
Deserve, attack the world as I see it,
As I believe it should be.
I know my truths, and my faults,
And I learn from them,