Jimmy Santiago Baca
Biography of Jimmy Santiago Baca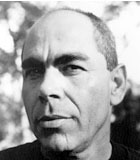 Jimmy Santiago Baca is an American Poet and writer.

Life and Career

Jimmy Santiago Baca was born in Santa Fe County, New Mexico, in 1952. Abandoned by his parents at the age of two, he lived with one of his grandmothers for several years before being placed in an orphanage. He wound up living on the streets, and at the age of twenty-one he was convicted on charges of drug possession and incarcerated. He served six and a half years in prison, three of them in isolation, and having expressed a desire to go to school (the guards considered this dangerous), he was for a time put in the same area of the prison with the inmates on death row before he was released.

During this time, Baca taught himself to read and write, and he began to compose poetry. He sold these poems to fellow inmates in exchange for cigarettes. A fellow inmate convinced him to submit some of his poems to the magazine Mother Jones, then edited by Denise Levertov. Levertov printed Baca's poems and began corresponding with him, eventually finding a publisher for his first book.

Immigrants in Our Own Land, Baca's first major collection, was highly praised. In 1987, his semi-autobiographical minor epic in verse, Martin and Meditations on the South Valley, received the American Book Award for poetry, bringing Baca international acclaim and, in 1989, the Hispanic Heritage Award in Literature. A self-styled "poet of the people," Baca conducts writing workshops with children and adults at countless elementary, junior high and high schools, colleges, universities, reservations, barrio community centers, white ghettos, housing projects, correctional facilities and prisons from coast to coast.

In 2004 Baca started a non-profit organization, Cedar Tree, Inc., that supports these workshops through charitable donations. As well as writing workshops, Cedar Tree has produced two documentary films Clamor en Chino and Moving the River Back Home. The organization employs ex-offenders as interns.

Published Works

Baca's poetry collections include C-Train and Thirteen Mexicans: Dream Boy's Story (Grove Press, 2002), Healing Earthquakes (2001), Set This Book on Fire (1999), In the Way of the Sun (1997), Black Mesa Poems (1995), Poems Taken from My Yard (1986), and What's Happening (1982). His memoir, A Place to Stand (2001), chronicles his troubled youth and the five-year jail-stint that brought about his personal transformation. Baca is also the author a collection of stories and essays, Working in the Dark: Reflections of a Poet of the Barrio (1992); a play, Los tres hijos de Julia (1991); a screenplay, Bound by Honor, which was released by Hollywood Pictures as Blood In Blood Out in 1993; he also published at the end of 1993 Second Chances; Baca is also the author of a memoir, A Place to Stand: The Making of a Poet (2002). Baca's most recent novel is A Glass of Water (2009)

Jimmy Santiago Baca's Works:

C-Train and Thirteen Mexicans: Dream Boy's Story (Grove Press, 2002),
Healing Earthquakes (2001),
Set This Book on Fire (1999),
In the Way of the Sun (1997),
Black Mesa Poems (1995),
Poems Taken from My Yard (1986),
What's Happening (1982).
A Place to Stand (2001)
Working in the Dark: Reflections of a Poet of the Barrio (1992)
Los tres hijos de Julia (1991)
Bound by Honor,
A Place to Stand: The Making of a Poet (2002)
A Glass of Water (2009)
This page is based on the copyrighted Wikipedia Jimmy Santiago Baca; it is used under the Creative Commons Attribution-ShareAlike 3.0 Unported License. You may redistribute it, verbatim or modified, providing that you comply with the terms of the CC-BY-SA.
When Life
Is cut close, blades and bones,
And the stench of sewers is everywhere,
Blood-sloshed floors,
And guards count the dead
With the blink of an eyelid, then hurry home
To supper and love, what saves us
From going mad is to carry a vacant stare
And a quiet half-dead dream.