Joanne Kyger
Biography of Joanne Kyger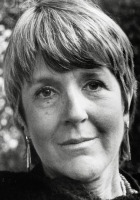 Joanne Kyger is an American poet. Her poetry is influenced by her practice of Zen Buddhism and her ties to the poets of Black Mountain, the San Francisco Renaissance, and the Beat generation.

Overview

Kyger studied at the University of California, Santa Barbara, before moving to San Francisco, in 1957, and becoming involved with the poetry scene around Jack Spicer and Robert Duncan.

In 1960 she joined Gary Snyder (whom she had met in San Francisco in 1958) in Japan. They were married on February 28, immediately after her arrival. She later travelled to India with Snyder, Allen Ginsberg and Peter Orlovsky, where she met with the Dalai Lama. She returned to the United States in 1964 and her first book, The Tapestry and the Web was published the next year.

In 1965, she married Jack Boyce. They separated in the early seventies.

Kyger has published more than twenty books of poetry and prose, including Going On: Selected Poems, 1958–1980, (1983); and, Just Space: poems, 1979-1989 (1991). She has lived in Bolinas since 1968, where she has edited the local newspaper. She has also done some occasional teaching at the Jack Kerouac School of Disembodied Poetics of the Naropa Institute, in Boulder, Colorado.

In 2000, her 1981 collection of autobiographical writings was republished as Strange Big Moon: Japan and India Journals, 1960-1964, which Anne Waldman has called "one of the finest books ever in the genre of 'journal writing'".

More recent poetry collections include God Never Dies (Blue Press), The Distressed Look (Coyote Books), Again (La Alameda Press), and As Ever: Selected Poems published by Penguin Books.

Her most recent book is About Now: Collected Poems from National Poetry Foundation. It won the 2008 PEN Oakland Josephine Miles National Literary Award for Poetry.

In 2006 she was awarded a grant from the Foundation for Contemporary Arts Grants to Artists Award.

Joanne Kyger's Works:

Just Space: Poems 1979-1989 (1991) Black Sparrow Press. Illustrated by Arthur Okamura.
Strange Big Moon: The Japan and India Journals: 1960-1964 (2000) North Atlantic Books. Originally published in 1981 by Tombouctou Books as The Japan and India Journals, 1960-1964.
As Ever, Selected Poems, (2002) Penguin. Edited by Michael Rothenberg, Introduction by David Meltzer.
About Now: Collected Poems (2007) National Poetry Foundation.
This page is based on the copyrighted Wikipedia Joanne Kyger; it is used under the Creative Commons Attribution-ShareAlike 3.0 Unported License. You may redistribute it, verbatim or modified, providing that you comply with the terms of the CC-BY-SA.
September
The grasses are light brown
and ocean comes in
long shimmering lines
under the fleet from last night
which dozes now in the early morning

Here and there horses graze
On somebody's acreage