Joey Infante
Joey Infante
(June 16,1987 / Philippines)
Biography of Joey Infante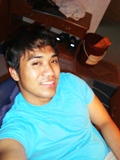 Was born in an a small community where life is as simple as it should always be. A first born in a family of five.Grew up as a strong guy with a vision in life.I really dont love to write prose and poems but sometimes when i have spare time i just find myself writing and later on would i discover that i have already done something... please enjoy my works and i will continue to make more.... now im on a ship trading here in europe which inspires me to take some time and write something....
Widower's Confession
I held her hands, on bended knees
Eyes gone red, tears rolling down my cheeks
I kissed her lips, so cold and dry
Her touch in mine triggered me to cry

She screamed in pain while uttering my name
It crushed my heart I couldn't do a thing
I whispered softly, so wounded and broken
God why? God why? You allowed this to happen?