Johannes Vilhelm Jensen
Biography of Johannes Vilhelm Jensen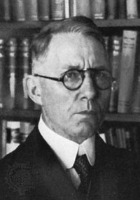 Johannes Vilhelm Jensen (in Denmark always called Johannes V. Jensen; 20 January 1873 – 25 November 1950) was a Danish author, often considered the first great Danish writer of the 20th century. He was awarded the Nobel Prize in Literature in 1944. One of his sisters, Thit Jensen, was also a well-known writer and a very vocal, and occasionally controversial, early feminist.
He was born in Farsø, a village in North Jutland, Denmark, as the son of a veterinary surgeon[1] and he grew up in a rural environment. While studying medicine at the University of Copenhagen he worked as a writer to fund his studies. After 3 years of studying he chose to change careers and devote himself fully to literature.
Jensen's most popular literary works were all completed before 1920. After this he mostly concentrated on ambitious biological and zoological studies in an effort to create an ethical system based upon Darwinian ideas. He also hoped to renew classical poetry.
For many years he worked in journalism, writing articles and chronicles for the daily press without ever joining the staff of any newspaper.
This page is based on the copyrighted Wikipedia Johannes Vilhelm Jensen; it is used under the Creative Commons Attribution-ShareAlike 3.0 Unported License. You may redistribute it, verbatim or modified, providing that you comply with the terms of the CC-BY-SA.