John Balaban
Biography of John Balaban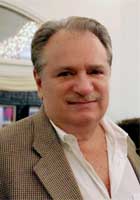 John B. Balaban (born December 2, 1943) is an American poet and translator, an authority on Vietnamese literature.
Balaban was born in a housing project neighborhood in Philadelphia to Romanian immigrant parents, Phillip and Alice Georgies Balaban. His father taught himself calculus, invented a model airplane, and studied engineering in Romania, while his mother was a peasant with "almost no education". Balaban wrote his first poem at the age of eight or nine, and cites the influence of show tunes that his elder sisters used to sing while washing the dishes after dinner.
He became a Quaker at the age of sixteen, while searching for alternatives to the violence in his neighborhood. He obtained a B.A. with highest honors in English from Pennsylvania State University in 1966. A Woodrow Wilson Fellowship that he received in his senior year at the university allowed him to study English literature at Harvard University, where he received his A.M.
During the Vietnam War, Balaban was a conscientious objector; He went to Vietnam with the International Volunteer Services where he taught at a university until it was bombed in the Tet Offensive. He was wounded in the shoulder by shrapnel and evacuated; after his recovery, he worked to save burned and injured children from the war. He left Vietnam in 1969, but returned in 1971 to work on Ca Dao Viet Nam, a collection of poems in the Ca Dao folk tradition.
Balaban's first published collection of verse, After Our War (1974), was a Lamont Poetry Selection of the Academy of American Poets. In 2000, he released Spring essence, a collection of poems by Hồ Xuân Hương, an 18th-century poet and the preeminent woman poet of Vietnam. The book included English translations and versions in both the current Vietnamese alphabet and the historical Chữ Nôm writing system.
Balaban has written other works that draw on his experiences in Vietnam. His anthology Locusts at the Edge of Summer: New and Selected Poems won the 1998 William Carlos Williams Award. He is currently the Poet-in-Residence and Professor of English in the creative writing program of North Carolina State University.
After Our War
After our war, the dismembered bits
- all those pierced eyes, ear slivers, jaw splinters,
gouged lips, odd tibias, skin flaps, and toes -
came squinting, wobbling, jabbering back.
The genitals, of course, were the most bizarre,
inching along roads like glowworms and slugs.
The living wanted them back but good as new.
The dead, of course, had no use for them.
And the ghosts, the tens of thousands of abandoned souls