John Daniel Logan
Biography of John Daniel Logan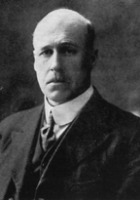 John Daniel Logan was a Canadian poet and academic. He is noted for teaching the first university-level course on Canadian literature.

Logan was born in Antigonish, Nova Scotia, the oldest son of Elizabeth Gordon (Rankin) and Charles Logan. He was educated at Pictou Academy and Dalhousie University, from which he received a B.A. in Philosophy in 1893, and an M.A. in 1894. He then went to Harvard University, where he received a Ph.D. in 1896.

Marjorie McMurchy, Canadian Courier: "The writer says in his Preface that his work is no better and no worse than what might readily be accomplished by any man of education and literary instincts. Thus it will be seen that Dr. Logan does not claim to be a poet. But what he writes is so essentially national, so strong in spirit, and deals so closely with what is good material for poetry that Songs of the Makers of Canada is the most authentic little book of Canadian poetry that we have this year."

After graduating he served as the principal of Hampton Academy in New Hampshire, and then as a professor of English and Philosophy in the State University of South Dakota.

From 1908 to 1910 he was the music critic of the Sunday World of Toronto. He also worked for the Toronto Daily News.

In 1915 he delivered a series of lectures on Canadian literature at Acadia University. which were labelled by the Acadia Bulletin as "the first course of lectures on distinctively Canadian Literature which has ever been given in a Canadian University.". After service in the Army during World War I, Logan returned to Acadia as "Special Lecturer on Canadian Literature" to conduct the first university course on the subject in 1919-1920 – a course hailed by the Toronto Globe as "an innovation of national importance.".

John Daniel Logan's Works:

Poetry

Preludes, Sonnets and Other Verses. 1906.
Songs of the Makers of Canada, and Other Homeland Lyrics. 1911.

Non-fiction

The Structural Principles of Style. 1900.
The Religious Function of Comedy. 1907.
Democracy, Education, and the New Dispensation. 1908.
The Making of the New Ireland. 1909.
Insulters of Death. 1916.
J.D. Logan and D. French, Highways of Canadian Literature. 1924.
This page is based on the copyrighted Wikipedia John Daniel Logan; it is used under the Creative Commons Attribution-ShareAlike 3.0 Unported License. You may redistribute it, verbatim or modified, providing that you comply with the terms of the CC-BY-SA.
Laval: Noble Educator
LAVAL, High Priest of Knowledge, who first scanned
The years to come, and saw the pow'rs that lay
Within the docile hearts thy truth should sway,–
Whose work is puissant still upon this land,–
Thou wast the Spirit's patient paragon
In those far, pristine, mercenary days
When thou alone wast master of the ways
That lead into the vale of Avalon.