John Farrell
John Farrell
[J.P. Farrell] (22 May 1968 - 4 November 2010 / Long Island, NY.)
Biography of John Farrell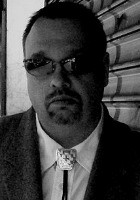 John Patrick Farrell was an American poet and composer.

Early Life

J.P. Farrell was born in Glen Cove, New York and pursued study of music from an early age. He has composed music and performed in numerous ensembles in Long Island. Farrell entered SUNY Fredonia School of Music in 1986 as a Music Theory and Film major. He later transferred to SUNY Geneseo to pursue music composition studies with James Willey. Upon his graduation, Farrell remained semi-active in the New York Jazz scene as a bassist; performing with pianist Hyperion Knight . J.P. Farrell is a member of the Songwriters Guild of America and the American Federation of Musicians.

Literary Career

Farrell moved to Minneapolis in 1994 and worked with the St. Paul Chamber Orchestra and Minnesota Opera. He enrolled at the University of Minnesota in the MFA program for Creative Writing in 1999. It was there that he studied poetry with Ray Gonzalez and won several awards for his poetry (including the ArtsWords Award in 2002) and has been published in numerous academic poetry journals. He is currently an active poet and music teacher in Boerne, Texas. The publisher of the Atonal Poetry Review (launched in January 2010) and President/principal owner of Atonal Press. His most recent poem "Had Schumann Lived" was published in di-vêrse´-city (AIPF; 2010). He also served as Executive Director of the Guadalupe Valley Poetry Celebration.

John Farrell's Works:

Songs from the Icicle Asylum (Atonal Press/2008)
This page is based on the copyrighted Wikipedia John Farrell; it is used under the Creative Commons Attribution-ShareAlike 3.0 Unported License. You may redistribute it, verbatim or modified, providing that you comply with the terms of the CC-BY-SA.
John Farrell Poems
Abstract Art
Drawing on the eyelids of a vulpine beauty Wailing inward at abstract art Flickering images/ ghost-like
Icicle (Number 4)
It is the constellations/ illuminating/ That has brought me back from primitive Sleep with flesh intoxicated.
Black And Tan Fantasy.
Last night, a dream came; flying though bright speculations and the Mundus Novus dawning.
Then It All Came Down.
....from the ascension of the cyclone- Astroland (Coney Island) I see 3000 families on rooftops on stoops,
Song Of The Expatriate
Che Guevara led me past the apocalyptic Autumn and into the desert of Mock Arizona. I am off again, searching for the endlessness of America.
Icicle (Number 8)
Within- the context of Bitter- cold Tears Freezing- on my eyelids.
A Short History Of Glen Cove, L.I.
Part One- Date Stamp: LI-NY (May 24,1668) . Matinecock Indians and a 'Place of Rushes.'
Icicle (Number 1)
In dusk November, the red sheets beneath my body. The box fan mixes a cocktail of air from the radiator heat and the chill creeping in from the cracked window.
Icicle (Number 5)
A December-Brand of Rosy-Bland/ Birds migrate through Mother Minneapolis. They Swaddle feathers/ Around frozen hedges and the sleeping Poplar trees. They Have Come/
Alone
Alone is Jesus to me/ My Precious Saviour. Alone has sacrificed so much for me/
Pawn Shop
Based on a photograph by Bernice Abbott -Pawn Shop (1937) Governor Stuyvesant Here is your New Amsterdam.
Had Schumann Lived
over-weight clouds- puffy become as liquid as they drown in the tenuous municipality of evening.
Jazz Manhatta
Native Saint of Melancholy I have made the pilgrimage: Jazz Manhatta.
Saturday With Grandfather
"Saturday afternoon and Texaco is broadcasting from the Met." My Grandfather sits on his big, drab colored recliner In perfect center before the glowing
All poems of John Farrell »
Share your comments »
Jazz Manhatta
Native Saint of Melancholy
I have made the pilgrimage:
Jazz Manhatta.

Over countless steel miles
of Long Island Railroad tracks
leading me into lethargic premonitions

of the Jewish Vulture Magic.