John Forbes
John Forbes
(1 September 1950 - 23 January 1998 / Melbourne, Australia)
Biography of John Forbes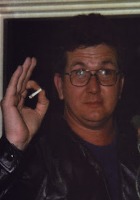 John Forbes was an Australian poet.

Forbes was born in Melbourne, Australia, but during his childhood his family lived in northern Queensland, Malaya and New Guinea. He went to Sydney University and his circle of friends included the poets Robert Adamson, Martin Johnston, and John Tranter. It was at this time that the work of the American poets Ted Berrigan, John Ashbery and Frank O'Hara made a strong and lasting impression on him.

He returned to live in Melbourne in the late 1980s, where he became the poetry editor of Scripsi. His friends around this time included the poets Gig Ryan, Laurie Duggan and Alan Wearne.

Forbes died in Melbourne of a heart attack, aged 47.

John Forbes's Works:

Collected Poems, 1970-1998; 2001, Brandl & Schlesinger
Damaged Glamour; 1998, Brandl & Schlesinger
New and Selected Poems; 1992, Angus & Robertson
The Stunned Mullet; 1988, Hale & Iremonger.
Stalin's Holidays; 1981, Transit Poetry.
Drugs; 1979, Black Lamb Press.
On the Beach; 1977, Sea Cruise Books.
Tropical Skiing; 1976, Angus & Robertson.
This page is based on the copyrighted Wikipedia John Forbes; it is used under the Creative Commons Attribution-ShareAlike 3.0 Unported License. You may redistribute it, verbatim or modified, providing that you comply with the terms of the CC-BY-SA.
John Forbes Poems
Anzac Day
A certain cast to their features marked the English going into battle, & then, that glint in the Frenchman's eye meant 'Folks
On The Beach: A Bicentennial Poem
Your vocation calls & you answer it, although there are these episodes in the shape of lips
Scottische
where are the bluebells & the blank deck of cards the children's toys
Rocket To Rome
Read about the Goliard Poets so long dead & so like you— sile philomela pro tempore
Popular Classics
there's an end to sex it's like the alphabet but simpler and for you, all there is and for you too
Antipodean Heads
I wish we could be nicer like the Americans instead we are caught
After The Bombs We Invent The Future
Let's paint the ideal supper on the back of our heads where the poem is a type of hole rope tricks and grit allow you to descend—
Admonition
Be still, my beating heart, & you, body Don't go banging into that tree— The one the girl turned into, back When the gods were like they are
Ode To Tropical Skiing
After breakfast in the Philippines I take a bath & it's a total fucking gas Enjoy the ice cream, Gerald,
Ode To Karl Marx
Old father of the horrible bride whose wedding cake has finally collapsed, you spoke the truth that doesn't set us free—
Love Poem
Spent tracer flecks Baghdad's bright video game sky as I curl up with the war
Four Heads & How To Do Them
The Classical Head Nature in her wisdom has formed the human head so it stands at the very top of the body.
Event Horizon
The Greeks invented the dust cover only to paint it / but we think of art as an alibi & see through it. So now what's around us is no longer just what's beyond the pencil
Death, An Ode
Death, you're more successful than America, even if we don't choose to join you, we do. I've just become aware of this conscription where no one's marble doesn't come up;
All poems of John Forbes »
Share your comments »
Antipodean Heads
I wish we could be nicer
like the Americans

instead we are caught
halfway between

a European sense of style
you can always be at home in