John Koethe
Biography of John Koethe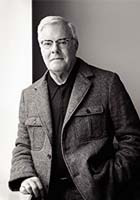 John Koethe was born on December 25, 1945 in San Diego, and received an A.B. from Princeton and a Ph.D. in Philosophy from Harvard.

He has published six books of poetry: "Blue Vents" (1968), "Domes" (1973), which received the Frank O'Hara Award, "The Late Wisconsin Spring" (1984), "Falling Water" (1997), which received the Kingsley Tufts Award, "The Constructor" (1999), which was a finalist for The New Yorker Book Award and the Lenore Marshall Award, and "North Point North: New and Selected Poems" (2002), which was a finalist for the Los Angeles Times Book Prize. He is also the author of "Poetry at One Remove: Essays" (2001) and "The Continuity of Wittgenstein's Thought" (1996).
What The Stars Meant
On a backwards-running clock in Lisbon,
By the marble statue of Pessoa;
On an antique astrolabe in London
Tracing out the sky above Samoa,

Thousands of miles away—in time, in place,
Each night conspires to create a myth
That stands for nothing real, yet leaves you with
The vague impression of a human face.